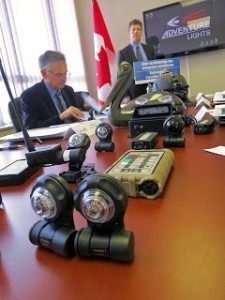 Levers success with Marines, military & police special forces
By Robert Frank
www.thesuburban.com
Sen. Larry Smith announced at a news conference, March 18, that budding West Island company adventurelights.com will receive federal funds to develop two of its world-leading products.
"It's a runway-in-a-briefcase," Adventure Lights (AL) president Timothy Ford described his clustered beacon system to reporters. The military uses the devices to set up temporary airports and helicopter landing zones where none exist, he said.
The other product, known as SMART beacon, shows commanders where their soldiers and police officers are, he explained, even in a pitch-dark blizzard, and enables them to communicate with one another.
The United States Marine Corps used previous generations of his invention in Afghanistan, he added. Royal Canadian Mounted Police, Sûreté du Québec, Ontario Provincial Police and Montreal and Calgary police and search and rescue personnel have already used them he said, and AL has just delivered some to Canadian Rangers, a mostly-Inuit irregular organization employed by the Canadian Forces to patrol Canada's frigid Far North.
"What we're really about is soldier safety, and we've already been lucky enough to have saved lives," Ford enthused.
Although 95 per cent of AL products are sold to customers outside of Canada, Ford hopes that the prototypes the taxpayer investment will permit him to build will put his products in Canadian soldiers' hands.
"Canada's Special Operations Forces Command very much wants to be the first soldiers to use this product," Ford said. However, he added, "there's a cruel, informal joke that the Canadian government overlooks homegrown products and firms when it purchases goods."
Sen. Smith wants to change that. Although he indicated that any government purchases must go through the official procurement process, he observed that "there is communication between ministers" and that National Defense Minister Peter MacKay would certainly be aware that AL "has received this award and will look at the locations and activities it has done."
Jobs for Quebec?
"We want to create jobs, we want people to work and create opportunity," Sen. Smith continued. He explained that government support helps dynamic companies like AL to overcome "the problem with the venture capital development concept that makes getting concepts to the production phase difficult for small enterprises."
Ford, who employed one person and a part-time secretary when the firm opened in 1995 said AL now employs 14 people and that its products are manufactured in Lachine, Pointe Claire and Kirkland, in addition to the prototype and design work that is conducted in Beaconsfield.
"We expect to increase our employment to 22," he smiled. "Those are mostly high-paying, highly skilled engineering jobs."
Ford added that political uncertainty makes it unclear whether any of the new positions will be based here.
"We want to see faster growth and keep things here in Quebec," he insisted, adding that the current climate creates "problems with investment."
Sen. Larry Smith (left) and Adventure Lights president Timothy Ford show off the company's high-tech military and aviation devices.
(function(i,s,o,g,r,a,m){i['GoogleAnalyticsObject']=r;i[r]=i[r]||function(){
(i[r].q=i[r].q||[]).push(arguments)},i[r].l=1*new Date();a=s.createElement(o),
m=s.getElementsByTagName(o)[0];a.async=1;a.src=g;m.parentNode.insertBefore(a,m)
})(window,document,'script','//www.google-analytics.com/analytics.js','ga');
ga('create', 'UA-45892555-1', 'robertfrankmedia.blogspot.com');
ga('send', 'pageview');