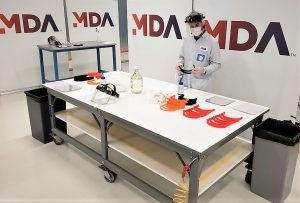 By Robert Frank
Toronto, Montreal and Quebec City nurses and doctors have received hundreds of life-saving face shields, thanks to grassroots initiative Open Source COVID-19 Medical Supplies (OSCMS), which brought together 3D-printing enthusiasts, small, high-tech manufacturing firms and students who wanted to help protect health care workers who treat people with coronavirus infections.
Face shields are clear plastic visors that are typically worn together with N95 or surgical masks to protect personnel from the SARS CoV 2 virus when they are intubating patients.
"They're burning the candle at both ends," MacDonald, Dettwiler (MDA) satellite manufacturing engineer Pedro Gregorio said in an interview.
Protection Collective, the Montreal OSCMS chapter, asked MDA for help on April 1 and, three days later, assembled more than a hundred face shields in MDA's high-tech clean room in Sainte Anne de Bellevue, Quebec.
Gregorio added that MDA intends to coordinate with grassroots face shield makers in the Toronto region to enable them to bring a parallel assembly line into production at its Canadarm manufacturing plant in Brampton, Ontario.
MDA's offer relieved a bottleneck that previously limited the number of face shields the enthusiasts could produce in a day.
"They needed a large sterile setting, which we were in a position to offer," Gregorio said. "The small clean room that they had been using limited the number that they could safely assemble in one day."
The face shields can be made with little training, using open-source 3D printing files. Individuals follow guidelines for printing sterile parts and adhere to special considerations specified by Health Canada aimed at enabling the response to the COVID-19 epidemic.
"Logistics play a big role," Gregorio explained. "Volunteers pass around to the individual producers, collect the parts that they made and bring them to MDA, where they follow shield-mask-glove control-facility protocols, sterilize, assemble and bag finished face shields and deliver them once a day to hospitals in the region."
Protection Collective indicated that it urgently needs more plastic raw materials, as it has only a few days' supply left: 3D printing requires polylactic acid filament (PLA), and the transparent face shield is made from a polyethylene (PETG), similar to the material used to make beverage bottles.