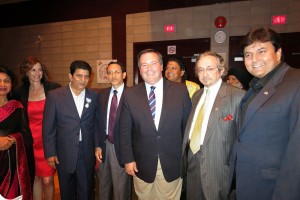 By Robert Frank
www.thesuburban.com
Hundreds of Indo-Canadians, their friends and more than a dozen federal, provincial and municipal politicians and dignitaries of all political stripes gathered in St. Laurent, Aug. 23, to celebrate the anniversary of India's independence in 1947.
Senior cabinet minister Jason Kenney represented the federal Conservative government, and Deputy High Commissioner Tsewang Namgyal represented India at the event, organized by Montreal India-Canada Association (ICA) president Chandra Bhan (CB) Singh.
Other political luminaries included St. Laurent MP Stéphane Dion and MNA Jean-Marc Fournier. Deputy Mayor Mary Deros represented Montreal, and NDP MPs Hélène Leblanc and Isabelle Morin also joined in acknowledging the importance of the country's growing South Asian population. Canada's 2011 census showed that Punjabi is now the country's third most-spoken language, after English and French.
Guests were treated to an Indian meal prepared by Malhi restaurant and traditional dancing, music and singing, as well as fusion of Indian choreography with Western styles such as the tango.
ICA Montreal is North America's oldest such organization, which brings together all those of Indian origin, regardless of creed: This was the sixtieth annual celebration that ICA has organized to mark the modern India's birth.
With Hon. Jason Kenney (centre), Minister of Employment & Social Development and Minister for Multiculturalism at the India-Canada Association's India Independence Day celebration (left to right) community leader Shama Chopra, activist attorney Brigitte Garceau, OFBJP National Coordinator for Canada Raman Chopra, India Deputy High Commissioner Tsewang Namgyal, The Suburban editor-in-chief Beryl Wajsman and India-Canada Organization president Naseer Mehdi Khan.
(Photo © Robert Frank)
(Left to right) Brigitte Garceau with St. Laurent MP Stéphane Dion, Shama and Raman Chopra, OFBJP Montreal Coordinator Dr. Shivendra Dwivedi and Neelam Dwivedi
(Photo © Robert Frank)
(function(i,s,o,g,r,a,m){i['GoogleAnalyticsObject']=r;i[r]=i[r]||function(){
(i[r].q=i[r].q||[]).push(arguments)},i[r].l=1*new Date();a=s.createElement(o),
m=s.getElementsByTagName(o)[0];a.async=1;a.src=g;m.parentNode.insertBefore(a,m)
})(window,document,'script','//www.google-analytics.com/analytics.js','ga');
ga('create', 'UA-45892555-1', 'auto');
ga('send', 'pageview');