By Robert Frank
Roland Dick attracted surprisingly strong support from across the political spectrum, June 15, when he opened his campaign office in the western Laval riding of Laval les Îles.
"We might not all be Conservatives—I'm not a Conservative—but I'm going to support Roland Dick in the upcoming federal election," declared David de Cotis, vice-chairman of the City of Laval's powerful executive committee.
"He's an honourable family man, a man of integrity who would be a great, great addition to complement of elected officials who represent Laval," de Cotis told The Suburban.
"I like the way that he hits the ground running," agreed St. Vincent de Paul Councillor Paolo Galati. "He's a very centred individual and will be a great Member of Parliament to represent the citizens of Laval."
Laval wants in
"It's about time that Laval citizens had someone to represent them in Ottawa who will work for Laval," Dick told The Suburban. "We have a government that will definitely be returning to power, and it's about time that there is a Laval resident in government. It has been so long."
He said in an interview that he's pleased by the amount of political support that he has already garnered, with more than four months remaining before the anticipated Oct. 19 federal election.
"I have a big machine behind me and I'm surrounded by a new generation," Dick smiled. "Our fingers are crossed. I think we'll be there. It's high time."
Dick is an architect by profession and a North American leader of the World Lebanese Cultural Union. He is already reaping a rich dividend for his years of investment in Laval community organizations, including Bonheur du ciel, which provides warm meals to the homeless in Pont Viau, as well as for his work as a municipal political activist.
He has enlisted Sir Wilfrid Laurier School Commissioner Ailsa Pehi as his campaign manager. De Cotis added that Dick also has the support of municipal councillors Aline Dib and Ray Khalil.
"He has echoed the values of the Mouvement lavallois team over the years, was one of our supporters during election and worked very hard to get a few of us elected," de Cotis said.
Raymonde Folco represented the riding from the time that it was created in 2004 until the 2011 general election, when François Pilon rode to victory for the New Democratic Party on the coattails of Jack Layton's popularity.
If Dick wins in October, he will be the first Conservative to hold a seat in Laval since Jacques Tétreault (Laval Centre), Guy Ricard (Laval West) and Vincent Della Noce (Alfred Pellan) were voted out of office in the 1993 general election.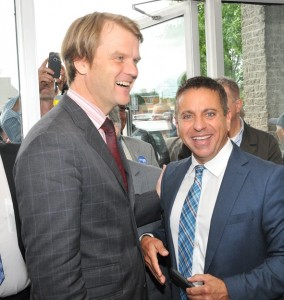 Federal Immigration Minister Chris Alexander visited Laval les Îles for the official opening of candidate Roland Dick's riding office.