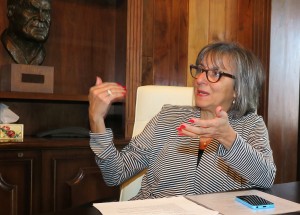 By Robert Frank
www.thesuburban.com
Laval's ruling and opposition parties have worked out a compromise on new rules to run city council meetings. The winners? Laval citizens.
The March 10 city council meeting signaled a sea change in Laval's hitherto-acrimonious municipal debate. Politicians set aside their partisan differences to hammer out the new rules.
"We visited three other cities, learned some of their best practises, and then set about adapting them to serve Laval's needs," Councillor Christiane Yoakim, who chairs council meetings, told reporters the following day at a news conference in Mayor Marc Demers' office.
The most conspicuous change will be to move question period close to the beginning of council meetings, soon after the agenda is adopted. Citizens hitherto had to cool their heels, sometimes enduring hours of tedious policy discussion.
From now on, citizens will get 90 minutes to exercise their legal right to pose questions to Laval's elected representatives, Yoakim said.
"That can be extended another 30 minutes, if two-thirds of council votes in favour of doing so," she added.
"We're opening the way to dialogue and democracy," Yoakim declared, adding that it took nine months to bring the reforms to fruition.
Mayor Demers underscored that the proposed changes went through extensive vetting and consultation during that period, before they saw the light of day last week.
"We consulted the official opposition [Jean-Claude Gobé's Action Laval party] and the independent councillors, who came back with suggested changes," he smiled, "most of which we adopted."
This collaborative approach occurs routinely in federal and provincial parliamentary committees, but is more rarely seen in municipal political discourse. It paid off. When last week's vote came up, Action Laval councillors lined up in solid support of the new measures. The only councillors to vote against were the two independents: Pierre Anthian and Alain Lecompte.
"Did we get everything we want?" Gobé asked rhetorically. "No. As the official opposition, we have a duty to negotiate compromise. That's why we ultimately supported it."
The whole world is watching
The advent of webcasting is also influencing the tenor of city council debate, because excessive rhetorical theatrics are counterproductive on the small screen.
As
The Suburban
reported last week, the city tested telecasting technology during the March 10 council meeting. Mayor Demers said that the recording, which will not be broadcast, was conducted in anticipation of televising council meetings via the Internet, possibly as soon as the June council meeting.
Gobé emphasized that it's important to interest citizens in the political process by enabling them to view city council meetings from the comfort of their home.
"The political class must take its share of the blame for citizens' disaffection with its leadership," Gobé opined, and suggested that to do otherwise would be dangerous in a rapidly radicalizing world.
"It's important to encourage the public to engage in political life," he urged. "If we don't make the effort to do so, Quebec and Canada could witness the same drift toward the extremism that we see arising in many European countries. Political disillusionment leaves a void that special interest groups and extremist parties are all-too-eager to fill. We have to prevent that."
Christiane Yoakim
(Photo © Robert Frank)
(function(i,s,o,g,r,a,m){i['GoogleAnalyticsObject']=r;i[r]=i[r]||function(){
(i[r].q=i[r].q||[]).push(arguments)},i[r].l=1*new Date();a=s.createElement(o),
m=s.getElementsByTagName(o)[0];a.async=1;a.src=g;m.parentNode.insertBefore(a,m)
})(window,document,'script','//www.google-analytics.com/analytics.js','ga');
ga('create', 'UA-45892555-1', 'auto');
ga('send', 'pageview');