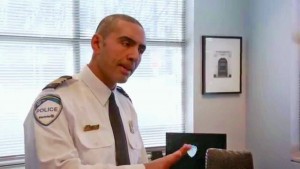 More arrests pending
By Robert Frank
www.thesuburban.com
Montreal Police told The Suburban that when they caught Louis Bouchard red-handed in the midst of allegedly stealing a car, the night of March 18, they nailed the head of a car theft gang that had been spiriting abroad cars that they had stolen at Dorval Airport.
The 55-year old St. Leonard resident faces 24 counts of car theft, mostly involving Toyota and Lexus vehicles.
"The cars were commonly stolen for export, from hotels surrounding the airport," Cdr. Mohamed Bouhdid explained during an interview at Station 5. "Two more arrests are pending."
"They had sophisticate electronic equipment that permitted them to bypass the computer chip that is supposed to prevent someone who doesn't have the key from starting the car," he explained. "That permitted them to start the car and drive away with it. When we searched [Bouchard's] places [in St. Leonard and Longueuil], we found a lot of such equipment."
Montreal has long been plagued by systematic thefts of premium cars that are then placed in a shipping container and sent overseas to countries in the Middle East and North Africa.
The practice is also rampant in some European cities like Zagreb, Croatia, where it's common to see the cars driving the streets with Quebec and Ontario license plates still affixed like a status symbol.
Local authorities adopt a laissez-faire approach because usually the cars usually have been replaced by the owners' insurance firm, although Cdr. Bouhdid noted that they will sometimes pay to have a high-value car returned from abroad.
Station 5 Cdr. Mohamed Bouhdid
(function(i,s,o,g,r,a,m){i['GoogleAnalyticsObject']=r;i[r]=i[r]||function(){
(i[r].q=i[r].q||[]).push(arguments)},i[r].l=1*new Date();a=s.createElement(o),
m=s.getElementsByTagName(o)[0];a.async=1;a.src=g;m.parentNode.insertBefore(a,m)
})(window,document,'script','//www.google-analytics.com/analytics.js','ga');
ga('create', 'UA-45892555-1', 'auto');
ga('send', 'pageview');