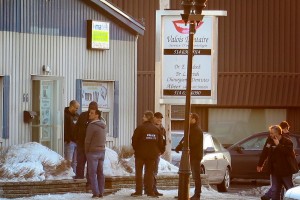 Police reassure public
By Robert Frank
www.thesuburban.com
Valois Village was abuzz, after the Montreal Police tactical squad took down what they said was a criminal biker gang clubhouse at 66 Donegani, around 5 p.m., March 11.
"It was a place to meet," Station 5 Cmdr. Mohamed Bouhdid told The Suburban. "I want to reassure [Pointe Claire residents] that it wasn't a dangerous place, because it was where they held regular meetings. We didn't find any weapons there and only a very minimal amount of drugs."
Searches elsewhere, in the Laurentians and in St. Lazare, netted guns and drugs, though, police said.
In Pointe Claire, investigators found a private gym: exercise machines but not much else.
"In particular, we didn't find any weapons there," Cmdr. Bouhdid said in an interview. "Only a minimal quantity of drugs. We did find lots of weapons at the other locations that we searched, though."
Montreal Police and Sûreté du Québec arrested four men and two women who reportedly are members of a Hell's Angels spinoff called Devil's Ghosts. Some were released on bail and others remain incarcerated pending a court hearing on the variety of drug and firearm charges that they now face.
Though they kept a low profile, some of them were known to several Valois locals, who told The Suburban that they didn't cause any trouble for their neighbours.
"We didn't receive a lot of complaints," acknowledged Cmdr. Bouhdid. "We began a complex investigation following a tip late last summer. Once we started to look at the location, we realized that it was related to organized crime involving biker gangs like the Hell's Angels."
"The investigation remains ongoing," he added, "We're going to keep at it. In the meantime, it is important for residents to know that it is even safer than it was before and that we will continue to keep a lookout there."
Investigators busted alleged biker bunker, March 11.
(Photo © Robert Frank)