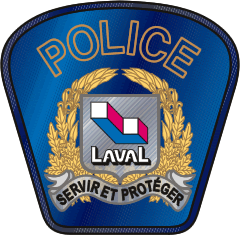 By Robert Frank
www.thesuburban.com
Laval Police pounced on four alleged 4th Street drug dens in Chomedey, early Thursday morning. The raids were among ten coordinated busts executed by police in Laval and Laurentian homes, April 30.
"All four searches in Laval were in residences within 100 m from one another," Sgt. Frédéric Jean told The Suburban. "Investigators arrested eight people—six men and two women—during the operation. Six of them were Laval residents."
"Four of them were members of a family, all but one of whom had many prior [arrests] for drug trafficking and weapons offences going back years," Sgt. Jean said in an interview. "All six appeared before an afternoon court session in Laval, May 1. They will remain incarcerated until a May 8 bail hearing."
They charged André Bigras 53; Michelle Bigras, 55; Philippe Ouellette 63, and Daniel Bigras 54, with weapons possession and negligent storage charges and for cocaine and cannabis possession, trafficking and conspiracy. Guy Roy 54, and Sylvain Monette 51, face cocaine trafficking conspiracy charges.
Police arrested the remaining two for growing cannabis. They were been released after they agreed to appear in court at a later date.
Among the weapons seized, investigators found a .25 calibre pistol—a weapon that is prohibited in Canada because it is so small that it is easy to conceal.
The operation also involved Sainte Agathe des Monts and Mont Laurier police, as well as three Sûreté du Québec and one Royal Canadian Mounted Police tactical squads and an Ontario Provincial Police squad with special technical expertise.
Chief Pierre Brochet underscored that cooperation between several police services made the busts possible (see accompanying report).
"Crime has no boundaries, so we have to work together," said Sgt. Jean.
Recréathèque arson
Police are tight-lipped about the identity and motive of two young men, aged 18 and 21, who allegedly set fire to the roof of the former Recréathèque on Labelle boulevard in Chomedey.
"At around 12:30, April 25, firefighters responded to a call about smoke emanating from the roof," reported Sgt. Jean. "When they arrived, they discovered two men [trapped] on the roof who couldn't get down. Firefighters rescued them, then quickly handed them over to police, after discovering evidence of arson—accelerants that had been used to start the fire."
He said that the pair, whose names he declined to disclose, who were not known to police. They were released after they signed a promise to appear in court at a later date.