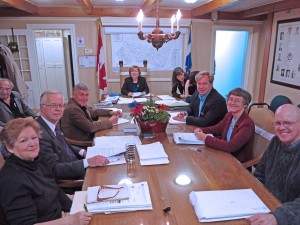 Baie d'Urfé councillors kept in the dark
By Robert Frank
www.thesuburban.com
Councillor Brian Manning has obtained Baie d'Urfé's architectural plans for a proposed new town hall via an access to information (ATI) request as a private citizen.
"I finally received the plans after asking for them since I was elected," he told The Suburban. "I also placed another request about the cost of all the plans, which is enormous. I have all the documents."
Manning remained reluctant to share the documents, saying that a senior town official had warned him that it would violate the law to do so.
"I would like to release some of these documents but I was told that I can't," he said.
The official provided a page from the Access to Information Commission website that referred to new, beefed up ATI rules that came into effect April 1, and suggested that he could not share the town hall information with any other individuals, because the town had provided it to him before April 1.
Another elected representative, Baie d'Urfé Councillor Peter Fletcher, also had to resort to Access to Information to obtain the town hall plans. He told The Suburban that other members of town council suggested that they were not public information.
However Access to Information Commission jurist Stéphanie Poullin-Régnié told The Suburban that Baie d'Urfé's contention is unfounded.
"Once the city provides access to a document, it no longer has any control over it," she said in a telephone interview. "The person who has obtained it through the ATI law can do whatever they want with it."
Poullin-Régnié added that the April 1 rule that the Baie d'Urfé official cited to Manning was irrelevant, "because it doesn't apply to municipalities."
"I thought that whatever we need to make a decision—any kind of documents that would help us to decide on anything in town that we're voting on—should be made available to us," Manning said. "I presume that [Baie d'Urfé's legal counsel] wasn't talking about through the ATI route."
Manning has had to file ATI requests to find out the rate of return that the town's more than $8 million in deposits is earning.
"Seems like it's well under one percent," he said.
"Should we be leaving this to the administration to manage?" Manning asked. "That's what I feel has been done. The buck stops at city council, not with the administration."
Mayor Maria Tutino failed to respond to The Suburban's interview request during the past two weeks. In March, she told the newspaper that the town wants to be exempted from the province's ATI law because it doesn't have enough staff to respond to ATI requests.
She specifically objected to responding to a request from resident Gaetano Ionata for financial information. Two weeks ago, the Access to Information Commission ruled against the town of Prévost, which had objected to a similar ATI request.
At last month's town council meeting, Tutino reportedly claimed that, during the past year, citizens in the audience had been unruly and had disrupted the proceedings. She also moved to bar Manning as well as Councillor Peter Fletcher from serving again as pro-mayor during her absence.
Fletcher, who had previously chaired a council meeting without incident, suggested that broadcasting council proceedings via the Internet would help the public to make up its own mind about goings-on at the town hall.
"It would enable all elected officials to be held accountable without emotional or obscured interpretation," he said in a statement. "Transparency can be improved in Baie d'Urfé. I will continue to voice my respectful opposition."
Laval broadcast its first city council webcast last night, Pointe Claire has also just adopted the practice and Lester B. Pearson School Board has for many years webcast its council meetings.
(function(i,s,o,g,r,a,m){i['GoogleAnalyticsObject']=r;i[r]=i[r]||function(){
(i[r].q=i[r].q||[]).push(arguments)},i[r].l=1*new Date();a=s.createElement(o),
m=s.getElementsByTagName(o)[0];a.async=1;a.src=g;m.parentNode.insertBefore(a,m)
})(window,document,'script','//www.google-analytics.com/analytics.js','ga');
ga('create', 'UA-45892555-1', 'auto');
ga('send', 'pageview');
Baie d'Urfé town council