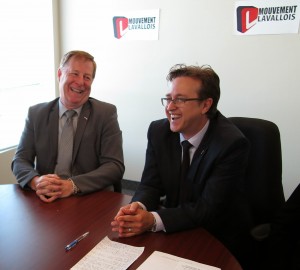 By Robert Frank
www.thesuburban.com
A beaming Paolo Galati showed off his Mouvement lavallois membership form during an Aug. 8 news conference to announce that he had joined Laval's ruling municipal party.
Seated beside Mayor Marc Demers, the St. Vincent de Paul city councillor hinted that money matters might have led to his ouster from the opposition Action Laval party, Aug. 1, while he was on vacation overseas.
"As a businessman, I'm used to closely managing things," Councillor Galati replied. "I always maintain close oversight. Whether I'm spending my own money or someone else's, there always have to be strict controls."
"Perhaps the [Action Laval] team was not always in agreement about how tight a rein I kept on the budget," he speculated.
"We were quite expecting it," Action Laval's chief of staff at city hall Jean Desautels subsequently told The Suburban. "It has been behind why we had some previous discussions about Mr. Galati. We're not surprised at all."
"I think it's a great move," Galati's former political attaché Emilio Migliozzi said in an interview afterward. "[Galati] is well-known, affable and highly regarded as a man of his word. Whatever he would say, he would always deliver. Now he's in a party that has the clout to make decisions and effect change. It's in the best interest of [St. Vincent du Paul] citizens and a huge loss for Action Laval. I wish him good luck."
Galati said that when he returned from Italy last week, he called Laval executive committee vice-chairman David de Cotis. Mayor Demers added that Mouvement lavallois members subsequently met the evening of Aug. 7, to vote on whether to accept Galati into the fold.
"He was warmly and strongly welcomed," Mayor Demers smiled. "The vote was nearly unanimous; there were some abstentions."
While Mayor Demers declined to provide specifics of the vote, he said that some of the debate hinged on what accepting Galati would mean in relation to Mouvement lavallois' own, defeated candidate in last year's municipal election.
"It was a delicate point," Mayor Demers acknowledged.
Galati added that St. Vincent du Paul citizens have expressed their satisfaction with his change of political stripes, telling him that they voted for him and not the party.
Mayor Demers indicated that Mouvement lavallois has "not approached or considered" also welcoming the only remaining independent city councillor, Jacques St. Jean, into its fold. St. Jean, who was reelected to represent St. François district, Nov. 2, quit former mayor Gilles Vaillancourt's party last fall, after accusations of systematic wrongdoing surfaced at city hall.
"We're in a holding pattern, more than in recruitment mode," said Mayor Demers.
Though Action Laval also gave Migliozzi the heave-ho, it remains unclear whether he too might rejoin Mouvement lavallois, where he previously played a leading role before defecting to Action Laval prior to last year's election.
"Everything is possible," he told The Suburban, "but it's not up to me to decide. We would first have to sit down and talk and the chance of that happening is very slim. Absolutely no one has approached me."
Within 48 hours of setting foot back on Canadian soil, Laval's ruling party embraced Paolo Galati (right), whom opposition Action Laval party ousted while he was vacationing in Italy, two weeks ago. The following morning, a smiling Mayor Marc Demers (left) announced the shift in Laval's political landscape.
(Photo © Robert Frank)
(function(i,s,o,g,r,a,m){i['GoogleAnalyticsObject']=r;i[r]=i[r]||function(){
(i[r].q=i[r].q||[]).push(arguments)},i[r].l=1*new Date();a=s.createElement(o),
m=s.getElementsByTagName(o)[0];a.async=1;a.src=g;m.parentNode.insertBefore(a,m)
})(window,document,'script','//www.google-analytics.com/analytics.js','ga');
ga('create', 'UA-45892555-1', 'auto');
ga('send', 'pageview');