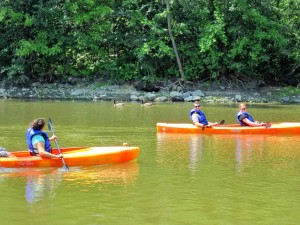 By Robert Frank
www.thesuburban.com
Some of the best paddling in the Montreal region is available at Laval's Rivière des Mille Îles Park. The boating there is so popular that you can see the proliferation of small boats from space on satellite images.
The weak current makes it a snap for novice paddlers—including children—to explore 26.2 hectares of wildlife refuge on ten islands in the Mille Îles River. The shallow water also means that motorboats rarely disturb the serenity of that part of the river.
Don't own a boat? No problem. The park offers an ample range of single and double kayaks, canoes, rowboats and pedal-boats that its helpful young staff will rent out for a reasonable price. If you already have your own boat, you simply pay $5 (or $20 for the season) to use the facility. If you do, be prepared to carry your boat about 100 metres from the parking lot to the water.
The park has built docks at many of the islands, some of which feature trails for you to explore, complete with lookout towers and interpretive signage to teach visitors about the nature that surrounds them: plants, birds, turtles and water mammals. Some islands are equipped with toilets, drinking water and picnic tables (see map).
In addition, a large interpretive centre at the park entrance depicts Mille Îles River ecosystem, complete with aquariums, stuffed animals and multimedia displays.
More experienced paddlers who brave the stronger currents further afield will be rewarded by a visit to the Boisbriand Nature Park on the North Shore. The park is populated by waterfowl and crisscrossed by an excellent boardwalk network that is tastefully punctuated by local sculpture and poetry.
Guided tours for individuals and groups are also available for a fee.
It's a half-hour drive or less from most places around Montreal and easy to find. Just take Exit 16 off Highway 15 and head about eight blocks east to 345 Ste. Rose Blvd.
Do be careful to stay on the marked trails, as poison ivy abounds on some islands. Mosquito repellent and sunscreen are also de rigeur and, of course, always wear your life jacket when you're on the water.
More information is available on the park's French-only website at: www.parc-mille-iles.qc.ca
Paddlers and Canada geese enjoy Mille Îles river
(Photo © Robert Frank)
Boisbriand nature trail
(Photo © Robert Frank)
Map of paddling trails