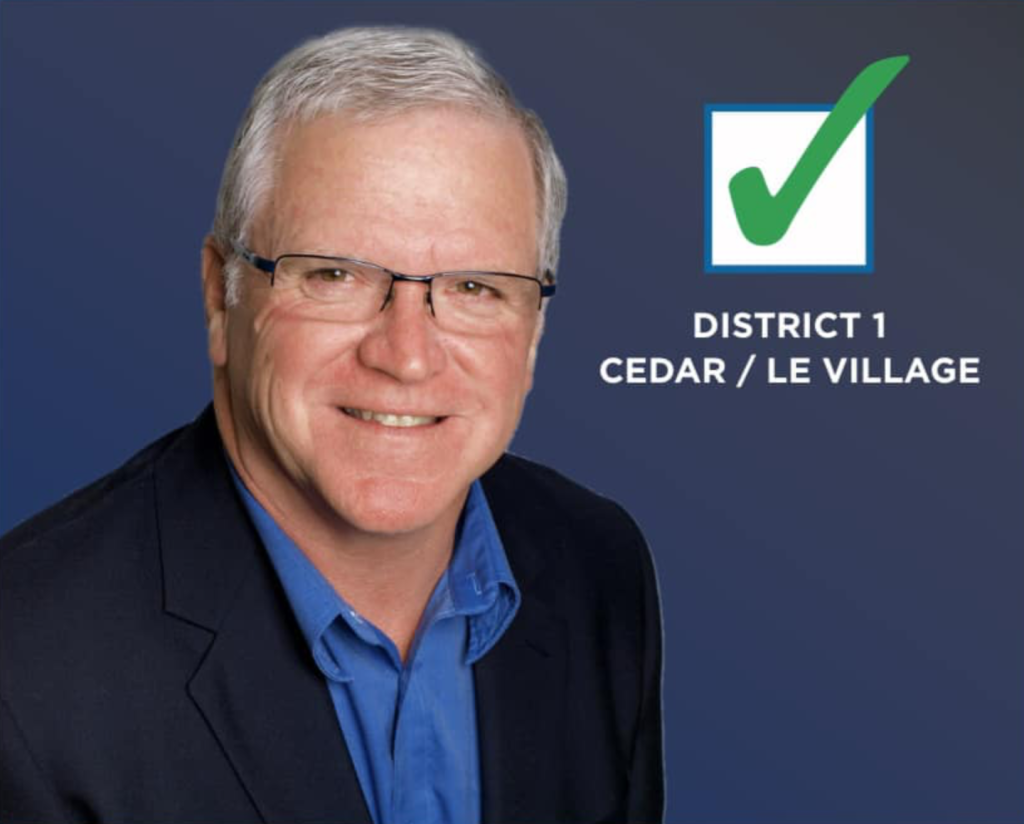 Newly elected Cedar-Le Village Councilor Claude Cousineau
By Robert Frank
In a significant setback to Mayor Tim Thomas, voters in Pointe Claire's Cedar–Le Village district elected Claude Cousineau to represent them, following a byelection, April 23.
"The people chose," Cousineau said in an interview. "I'm proud to be back."
"When [Erin] Tedford succeeded me, people wanted change and they got change," he continued. "I guess in the same vein, they wanted change again."
Cousineau was first elected to city council in 2013 during Morris Trudeau's term as mayor, and was reelected in 2017.
Thomas declined to be interviewed, when reached by telephone the day after the byelection. However, in an interview April 21, prior to the ballot, he stated "I'm backing Linda De Witt", who placed third in Sunday's vote.
"It was somewhat of a referendum on the mayor," suggested Councilor Eric Stork, who added that Thomas "openly campaigned for Linda De Witt. People saw him putting up posters and such. That was his choice. That was the horse that he wanted to win, and she lost."
Cousineau wants to reestablish a more-reasoned rapport on council, which has been riven by rowdy disputes since Thomas was elected.
Fewer minivans, more mass-transit
His political platform centred around retaining Montreal's rapidly rising population on the island.
"Densification prevents urban sprawl," Cousineau declared. "That's the science."
He cited urban planning professor Jean-Claude Marsan's answer when Radio-Canada news anchor Céline Galipeau asked how cities can contain growing greenhouse-gas emissions.
"[Marsan] immediately replied: 'Densification. We have to stop urban sprawl,'" Cousineau recalled.
Montreal's decade-old master urban development plan consigned the West Island to "automobile-oriented development", and many Pointe Claire voters have opposed reducing their reliance on motor cars through a shift to "transit-oriented development". The environment-friendly urban-planning approach places as many dwellings as possible within walking or cycling distance from mass-transit hubs.
"I trust the science," Cousineau said.
Deadline looming
The Cedar–Le Village vote was "a clear repudiation of the mayor and the mayor's approach to governing," stated Councilor Brent Cowan. "Maybe now we can move on and actually start moving this city forward."
"When I say move forward, I certainly don't mean [giving] a green light to developers and leveling the Fairview Forest," he said. "I mean we could actually start to do what we're supposed to do in terms of the study and the evaluations that are supposed to take place under the interim control bylaw procedures."
"In my view," Cowan continued, "the mayor has been getting in the way of doing all that, despite what he says. He just puts obstacle after obstacle in the way."
The city is far behind the critical-path timeline that it committed to, which aimed to wrap up by 2024.
"I see things that were supposed to have been completed before the end of 2022, so we're considerably late," Cowan said. "I'm trying to expedite what the mayor has said that he wants us to do."