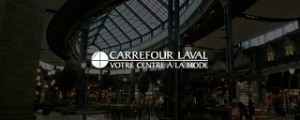 By Robert Frank
Forget about the cliché that the Internet has killed retail shopping centres. A new report shows that Canada's top malls are thriving.
Only one Quebec mall made it to
Retail Insider's
top-20 list this year, though. Carrefour Laval has succeeded in attracting shoppers from throughout the Montreal metropolitan region. The shopping mall placed 15th, reporting sales of $865 per square foot during 2014.
It's easy to see where the money is. Nearly half Canada's top malls are in the Toronto region, with another four in Vancouver, including the country's most successful shopping plaza, the Pacific Centre, which earned $1,498 per square foot.
That's less than half of the more than $3,000 US ($3,700 CAD) sales per square foot notched up by the top American shopping centre, the upscale open-air Bal Harbour Shops in wealthy Miami Beach, Florida.
Retail Insider said that successful Canadian malls have reinvented themselves for the 21st century. It quoted retail consultant Farla Efros, who observed that mini-anchors have replaced extinct department stores like Eaton, Simpson, Woodward, Zellers and Sears. Some Apple Stores, she said, sell more than $50 million a year in just 5,000-10,000 square feet.
Carrefour Laval will face new challenges for supremacy though. The developers of the successful South Shore Dix30 gigamall announced plans this month to transplant the concept to Montreal. They intend to build a similar shopping plaza on Royalmount in Mount Royal. The massive emporium will be built close to Highway 15, putting it within ready reach of Laval residents.
Quebec's number one shopping destination.