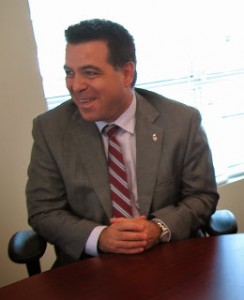 By Robert Frank

Laval plans to rewrite the rules that run the city by the end of next year.
Mayor Marc Demers announced last week that the city will draft a new urban development plan. The plan will spell out what can be built on Île Jésus, where it can be built and how it is to be constructed.
"Laval hasn't updated its urban development plan since 1994," executive committee vice-chairman David de Cotis said in an interview. "It's high time that we bring Laval into the 21st century."
The city will embark on a round of public consultations, starting Monday evening, June 1, to give citizens their say on shaping the city's master-plan.
"This exercise will enable us to confirm and extend protected zones, to talk about how to organize downtown, to map out public transit, to decide where to locate public buildings, to identify new residential districts and to lay out new commercial and industrial zones," Demers said in a statement.
Planes, trains and automobiles
The outcome will be far-ranging. Montreal completed a similar two-year exercise in April. It imposed a controversial Lac Mégantic law, which restricts the use of buildings within 300 metres of some railway and highway infrastructure.
The rules were meant to limit the impact of a similar conflagration, but could dramatically affect the value of properties in those zones. Certain land on the approaches to Dorval airport were also hit with similar restrictions.
Demers will chair a five-person panel that will oversee formulation of the urban development plan. The other members are city councillors Aline Dib, Virginie Dufour, Jocelyne-Frédéric Gauthier and Vasilios Karidogiannis.
Laval businesses and developers will get the last word at the final hearing, June 16, before the panel begins its deliberations. They plan to table a first draft of the new urban development plan this fall, followed by a second round of public hearings in November.
A second draft is slated for early 2016, followed by a final round of public consultations before city council adopts the plan and it becomes law in December 2016.
Opposition leaders like Jean-Claude Gobé of the Action Laval municipal party expressed dismay that the committee that will decide how to reshape Laval only includes elected members of Mayor Demers' Mouvement lavallois party.
"Opposition councillors can still contribute," de Cotis told The Suburban. "We're adopting a positive approach and are open to all recommendations, as we did when we worked together with opposition councillors to revamp the rules for city council meetings, earlier this year."
"Their input will be as valuable as mine," added former Action Laval Councillor Paolo Galati, who defected to Mouvement lavallois following a disagreement over his former party's political expenses last year. "The committee will look at their suggestions."
"Time to bring Laval into the 21st century," said David de Cotis.