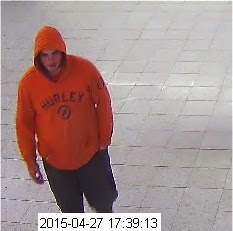 By Robert Frank
www.thesuburban.com
Laval police are asking for the public's help to identify a 25-30-year-old French-speaking white man whom they suspect committed a sexual assault, Sgt. Frédéric Jean told The Suburban.
On April 27, he allegedly approached a teenage girl at the Cartier Metro station and asked if he could help carry her bags. The girl told him to leave her alone. Police said that the man followed the girl and touched her sexually.
The 1.83 m (6 ft) tall man had brown hair, weighed about 115 kg (250 lbs) and wore jeans and an orange Hurley hoodie. Anyone with information can call the Laval Police confidential tip line at [450] 662-INFO (4636).
Two police officers suspended
Laval police have declined to disclose the reason that it has disciplined two of its members.
On April 22, the city's executive committee approved the suspension without pay of Const. Jason Lavoie for a total of eight days.
The length of the suspension is extraordinary. By contrast, police officers involved in driving their squad cars through the mud last year as a labour protest received only a single-day suspension.
Disciplinary matters are the most likely reason for the action, because breaches of the law or police code of ethics would be handled publicly.
"Laval police will not comment because it entails a relationship between employee and employer which is confidential and not a public matter," said Sgt. Jean.
At the same time, the city suspended Const. Antoni Mehani for one day without pay.


Recréathèque arson
Police are tight-lipped about the motive of two young men who allegedly set fire to the roof of the former Recréathèque at 900 Labelle in Chomedey.
"At around 12:30 p.m., April 25, firefighters responded to a call about smoke emanating from the roof," reported Sgt. Jean. "When they arrived, they discovered two men [trapped] on the roof who couldn't get down. Firefighters rescued them, then quickly handed them over to police, after discovering evidence of arson — accelerants that had been used to start the fire."
Investigators held an as-yet unnamed 21-year-old Chomedey resident in custody overnight after his arrest. There is, unusually, no court record available of what charges were laid against the suspect, who has since turned 22 since his arrest and already faced a pending assault charge. Neither have they disclosed the name of his 18-year-old accomplice, who was released after signing a promise to appear in court at a later date.