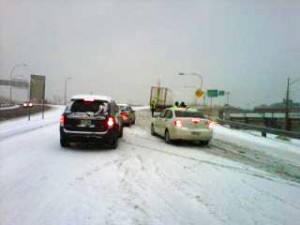 The Suburban's report resonates around the globe


By Robert Frank
www.thesuburban.com
The World Sikh Organization (WSO), which promotes and advocates for the protection of human rights for all individuals, regardless of race, religion, gender, ethnicity and social or economic status, has expressed its concern about an incident during which a Montreal police sergeant allegedly broke a local Sikh truck drivers' elbow, leaving him unable to work for three months, as well as a permanent partial loss of arm flexibility.
"The allegations being made against Sgt. Bigras are very serious and shocking to the Sikh commanity," Mukhbir Singh, WSO vice-president, Quebec and Atlantic Canada, told The Suburban in an electronic mail message.
The Suburban's report, two weeks ago, that the Quebec Police Ethics commission has filed three charges against Montreal police officer 3380, Sgt. Patrice Bigras—alleging racism, unauthorized and excessive use of force—has resonated in Indian news outlets across Canada and as well as on the Indian sub-continent.
Several members of Montreal's Indo-Canadian community thanked the newspaper after the report appeared, claiming that Narinder Singh Minhas' complaint that he was mistreated was far from an isolated incident.

The tractor-trailer driver said that he was needlessly injured and then treated disrespectfully, Nov. 23, 2011, after his truck bogged down in unplowed wet snow and ice on the Sources overpass at Highway 20 in Pointe Claire.

In addition to the physical injury, Minhas, a devout Sikh, claims that witnesses saw Sgt. Bigras punch him in the back of the head, removing the turban that his faith requires him to wear at all times.
"If these allegations are substantiated, we would expect exemplary action to be taken against Sgt. Bigras to ensure that no one is treated in such a brutal and disrespectful manner in the future," WSO Canada executive Mukhbir Singh asserted.
"Montreal is a cosmopolitan city that is open to the world," he noted. "We all have a role to play in combating racism—in the words of the Sikhs' tenth Guru: "Recognize all of humanity as one."
The ethics commission is slated to begin hearing the charges against Sgt. Bigras, Nov. 11.
In the meantime, Sgt. Bigras has also laid his own, criminal charges against Minhas over the same incident, alleging that Minhas committed mischief and interfered with a police officer in the course of his duty.
Minhas' lawyer, Serge Segal, appeared at a pro-forma court hearing, March 12, prompted by the criminal charges.
"The case will be continued on June 21, at which time a date for the hearing on the merits of the case will probably be decided," Segal told The Suburban.
Cars, tractor-trailer truck stuck in wet snow and ice on Sources overpass in Pointe Claire, Nov. 23, 2011.
(function(i,s,o,g,r,a,m){i['GoogleAnalyticsObject']=r;i[r]=i[r]||function(){
(i[r].q=i[r].q||[]).push(arguments)},i[r].l=1*new Date();a=s.createElement(o),
m=s.getElementsByTagName(o)[0];a.async=1;a.src=g;m.parentNode.insertBefore(a,m)
})(window,document,'script','//www.google-analytics.com/analytics.js','ga');
ga('create', 'UA-45892555-1', 'robertfrankmedia.blogspot.com');
ga('send', 'pageview');