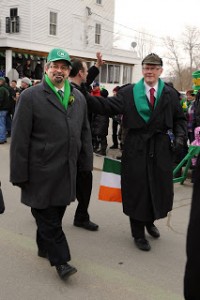 Welcomes Couillard's St. Patrick's Day win
By Robert Frank
www.thesuburban.com
Jacques Cartier riding's representative in Quebec City rose to speak last week in the provincial parliament, March 14.
West Islander Geoffrey Kelley acknowledged the importance of the province's citizens of Irish descent.
"Mr. Speaker, on Sunday, hundreds of thousands of Montrealers will line up on Sainte Catherine Street to watch the 190th edition of the St. Patrick's Day Parade," he reminded fellow legislators. "Organized by the United Irish Societies, the parade is the occasion to celebrate our Irish heritage, the important contribution made by the Irish community to Quebec and Canada. It is also a sure sign that spring is on its way at last!"
"Each year, members of the Irish community are honoured for their work. So, congratulations to this year's grand marshal, Andrew Fogarty, to the Irishman of the Year, Kirkland Mayor John Meaney, to parade reviewing officer Donald Pidgeon and to parade president Mike Kennedy. Many thanks, as well, to the hundreds of volunteers who help make the parade a success."
Kelley also aimed an Irish proverb at the Parti québécois government:
"May you have the hindsight to know where you've been, the foresight to know where you are going and the insight to know when you've gone too far!"


"We had a great time," Kelley reported after the March 17 parade, and bid the Luck o'the Irish to Philippe Couillard, whom members of the Quebec Liberal Party elected as their new leader during their St. Patrick's Day convention in Verdun.
"I am delighted that we have a leader with the experience and intelligence of a Philippe Couillard," he enthused in an electronic mail message to The Suburban. "His knowledge of the health and education is impressive. The fact that he has lived abroad widens his horizons. He has shared his vision of Quebec society which includes a role for all Quebecers from all origins."
"I have stated that the arrival of a new leader is just the first step," Kelley added.
"We now need to renew our party, develop new ideas for the next election platform, and get ready to do battle with our adversaries the PQ and the CAQ. Philippe Couillard will provide the leadership necessary to get us there."
(Left to right) Quebec legislators Geoffrey Kelley of Jacques Cartier riding and Yvon Marcoux of Vaudreuil riding.
Photo courtesy Studio May
(function(i,s,o,g,r,a,m){i['GoogleAnalyticsObject']=r;i[r]=i[r]||function(){
(i[r].q=i[r].q||[]).push(arguments)},i[r].l=1*new Date();a=s.createElement(o),
m=s.getElementsByTagName(o)[0];a.async=1;a.src=g;m.parentNode.insertBefore(a,m)
})(window,document,'script','//www.google-analytics.com/analytics.js','ga');
ga('create', 'UA-45892555-1', 'robertfrankmedia.blogspot.com');
ga('send', 'pageview');