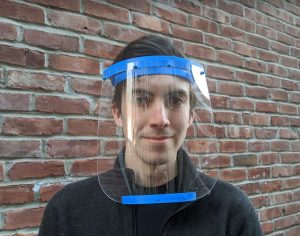 By Geneviève April
The grassroots group Protection Collective just doubled delivery this week of life-saving face shields to Montreal hospitals and could boost production by another 50 percent—but it's about to run out of raw materials.
Protection Collective formed spontaneously, March 25, when a rag-tag collection of Montreal-region hackers, students, healthcare workers and small-business owners, joined forces and organized to 3D-print, collect, assemble, sterilize and distribute free face shields to front-line healthcare workers.
In less than two weeks, they organized, built and have distributed more than 300 face shields to Montreal region hospitals.
By the end of last week, it could 3D-print, laser-cut and assemble just a hundred of the personal protection devices a day. Volunteers then made the rounds to collect the completed parts and deliver the components to be assembled and subsequently distributed.
The clean room where the grassroots group had previously assembled the personal protection equipment capped the number that it could deliver each day.
April 4, Protection Collective ramped up its production, thanks to satellite-maker MacDonald, Dettwiler (MDA) which gave it the green light to use its much larger, space-grade clean room in Montreal to sterilize and assemble the face shields.
"Now, we are making 198 unit a day," reported Jordan Bowden, who joined the group when he heard that his laser cutting skills and equipment could help to save lives.
"I expect that we could make 300 if we had more material at hand. We are looking into all kind of creative solutions."
The problem? Protection Collective might run out of raw plastic material in a matter of days. It needs polylactic acid (PLA) filament used to 3D print the headband but—more urgently—the essential transparent polyethylene (PETG) sheets that it laser cuts and bends to form the visors.
Participants in 24 different location, use 30 active 3D printing devices, use standard, open-source patterns to print the equipment—and their own cars and gasoline to collect the parts from individuals, bring them to MDA for assembly and deliver them to hospitals.
"All of the people involved got in contact through personal connections. A little over 50 people are involved, but the core team comprises 25 people," Bowden said.
If they succeed in securing more raw material, they want more 3D printer owners and operators to join their personal protective equipment-making effort.
They asked anyone who is in a position to help out to contact them through their web site ProtectionCollective.ca or their Facebook page: Open Source COVID19 Medical Supplies – Montreal.