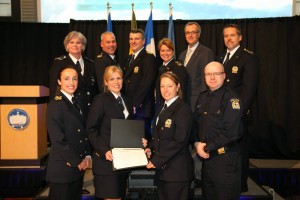 By Robert Frank
www.thesuburban.com
The Quebec police academy has singled out Laval Police for the excellence of its community policing.
During a ceremony at École nationale de police du Québec (ÉNAP) in Nicolet, Laval's finest received the 2014 award of excellence for its initiative to prevent fraud against the elderly.
"We visited Laval residences during the past year to explain the various schemes that fraudsters have been using," explained Sgt. Frédéric Jean. "For example, there's the accident scam. Someone phones and just says 'Grandma' or 'Grandpa'. The grandparent replies with their grandchild's name, saying, for example, 'Frank, is that you?' The scammer say's 'Yes it is' and the grandparents think that they're talking to a loved one."
"Another scam is for the caller to say that they are in trouble with the police and need $500 or $1,000," he told The Suburban in an interview. The caller usually says 'Don't tell Mom or Dad. I'll send someone over to pick the money up for me."
"Credit and debit card fraud is also a problem," Sgt. Jean added. "You have to be careful when you use them. Often someone next to you will say 'Can you give me a hand?' then steal your card while you're distracted."
Publicity in
The Suburban
last year also helped Laval Police find more victims of a man who had preyed on seniors whose windows he contracted to wash, but never returned to do the work.
"There have also been problems with dodgy door-to-door sales of roofing and lawn mowing," Sgt. Jean said.
Finally, Laval Police have also worked closely with www.dira-laval.ca, an organization that aims to prevent elder abuse.
"They help seniors to feel more at ease going to seek police help if their children are violent or are providing improper eldercare for their parents," Sgt. Jean concluded.
(Left to right, front row) Lt. Ana Rodrigues, Const. Michelle Bergeron, Const. Lyne Chartier, Const Érick-Paul Gereghty (back row) ÉNAP Commandant Marie Gagnon, Lt. Bernard Sauvé, Insp. Yannick Tétreault, Répentigny Police Chief Hélène Dion and Laval Police Chief Pierre Brochet.