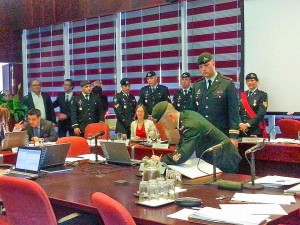 By Rhonda Massad
www.thesuburban.com
City council invited the public to observe a moment of silence during its May 5 meeting, to pay tribute to soldiers who had served in Afghanistan since 2001, 20 of whom are from Laval.
The moment of silence was preceded by the proclamation of the National Day of Honour that was subsequently held on May 9, to commemorate the end of this important Canadian military mission in Southwest Asia that stretched over 13 years.
Nine representatives from the Charles-Michel de Salaberry Armoury, at 2100 le Carrefour, then signed the city's Golden Book. The 4th Battalion, Royal 22nd Regiment—known affectionately as the Vandoos—made the Carrefour location their home in 1995.
Among those who attended the council meeting was Corporal Franck Dupéré, who was seriously injured in the line of duty.
His experience as a soldier in Afghanistan has led him to speak to high school students, veterans and sports teams about his drive to accept what life has dealt him and grow from it.
Cpl. Dupéré, who signed up with the Vandoos 4th Battalion in Laval when he was 16 years old, was in Ottawa, May 9, to participate in a ceremony commemorating the National Day of Honor at the Canadian War Museum.
In addition to serving in the Canadian Forces, most members of the Vandoos' reserve battalion, which employs nearly 200 people, occupy a civilian job or are pursuing their studies.
City Councillor Vasillios Karidogiannis said that the city honored the soldiers who have served in the mission by flying the Laval battalion's flag outside city hall on Friday, May 9.
Chief Warrant Officer Jean-François Paquette signed the Golden Book at Laval city hall, during the May 5 council meeting. He was accompanied by other members of the Laval-based 4th Batallion, Royal 22nd Regiment, to officially commemorate the end of the Canadian Armed Forces' 13 years in Afghanistan.
(function(i,s,o,g,r,a,m){i['GoogleAnalyticsObject']=r;i[r]=i[r]||function(){
(i[r].q=i[r].q||[]).push(arguments)},i[r].l=1*new Date();a=s.createElement(o),
m=s.getElementsByTagName(o)[0];a.async=1;a.src=g;m.parentNode.insertBefore(a,m)
})(window,document,'script','//www.google-analytics.com/analytics.js','ga');
ga('create', 'UA-45892555-1', 'robertfrankmedia.blogspot.com');
ga('send', 'pageview');