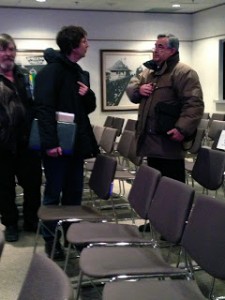 By Robert Frank
www.thesuburban.com
Everyone wants to preserve Pointe Claire village's heritage, but there's strong disagreement about how to do it.
More than 100 citizens packed the city hall council chamber, Jan. 23, for a public consultation about Pointe Claire's initiative to turn part of the 300-year-old village into a historic site.
Residents were permitted to voice their opinion and submit briefs during the evening session. Mayor Bill McMurchie, who presided, explained that the meeting was required by law, but precluded questioning and debate.
The first speaker, Curé Alain Roy, emphasized the attachment of his parishioners to St. Joachim church and their devotion to preserving local heritage. He underscored the considerable effort and sums of money that they have invested in the site over the past 300 years.
Several members of the congregation emphasized the importance of Pointe Claire's religious heritage as well as its historic value, and expressed concern that the intrusion of government requirements to preserve the site could bankrupt the parish.
"It is normal for parishioners and the sisters from the fabrique to be concerned but it might not be as bad as they anticipate," reassured resident Ron Williams.
Other citizens praised the city's initiative, and extolled Pointe Claire's beauty as well as its historic significance.
"Cities have a soul, but have a longevity greater than the people who inhabit it," observed Pointe Claire resident Jacques Monday. "I am thinking of who will benefit from what we are able to enjoy today."
Windmill landmark decaying rapidly
Société pour las Sauvegarde du patrimoine de Pointe Claire
president Claude Arsenault deposited a
21-page brief
which highlighted threats to the village's heritage and identified actions needed to address those concerns.
He pointed out that the
Pointe Claire windmill
—which dates from the Ancien régime and has become the symbol of Pointe Claire—is deteriorating rapidly and urged that it be restored without delay.
"Its blades are falling apart and could collapse very soon. The masonry is also quite damaged and water is infiltrating from outside."
"I am worried about the windmill too," said Louise Sauriol. "We need to establish a permanent education project for the young people of our city, neighbouring suburbs and, perhaps, far and wide."
Arsenault also cited a 2003 actuary's report that projected the adjacent
convent
could be vacant within five years from now.
"We must consider that the eventual departure of the Sisters might lead to a change in the building's vocation," he said.
Another resident countered that a new religious vocation could be found for the convent.
Many citizens on both sides of the church versus government fault line agreed that if Pointe Claire's three centuries of history are to be preserved, then funds need to be allocated to do so.

"It's important to set off on the right foot with the current owners who have been present on the site over the past 300 years," suggested Marie Gervais. "We have to be ready to put our money where our mouth is. It could be turned into an educational site eventually so we can share its richness with everyone."
(function(i,s,o,g,r,a,m){i['GoogleAnalyticsObject']=r;i[r]=i[r]||function(){
(i[r].q=i[r].q||[]).push(arguments)},i[r].l=1*new Date();a=s.createElement(o),
m=s.getElementsByTagName(o)[0];a.async=1;a.src=g;m.parentNode.insertBefore(a,m)
})(window,document,'script','//www.google-analytics.com/analytics.js','ga');
ga('create', 'UA-45892555-1', 'robertfrankmedia.blogspot.com');
ga('send', 'pageview');