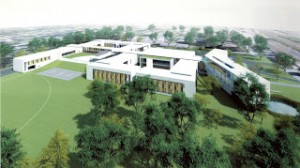 First phase of centre for troubled youth pegged at $5 million
By Robert Frank
www.thesuburban.com
Up to 108 youth will be housed at a new facility for troubled youth in Beaconsfield, Linda Corbeil told The Suburban in an interview.
"We want to have an open-unit campus that will entail nine units of 12 beds," Batshaw Youth and Family Services' director of finance and administrative services explained.
She said that, in addition to the residences, the complex will also comprise "all the infrastructure that goes with it, such as maintenance, kitchen, gymnasium and greenhouse areas."
Corbeil added that the facility will be open 24 hours a day, seven days a week, and is expected to employ 100-110 staff.
"Most of the youth are aged 12-18, but we will also have one unit, called Crossroads, for 6-12 year olds.
Batshaw has owned its property in Beaconsfield for more than 60 years, she said.
"During the 1970s and 1980s, there was a group home there," Corbeil recalled. "Then the site remained vacant until Portage [an independent drug addition rehabilitation centre for English-speaking youth] began to operate there ten years ago."
"We have been thinking of developing something on our Elm street land since 2008-2009," she continued. "We went to the city of Beaconsfield to talk in March 2011 and submitted our proposal Dec. 17, so we could find out what the city thinks about it."
No zoning changes will be needed to undertake the project, Corbeil reassured.
"Right now I can tell you that the zoning we have is the right zoning," she said. "With respect to what municipal infrastructure will be needed, the project manager is looking into this. The city of Beaconsfield has asked questions and they are the specialists."
During this week's Beaconsfield city council meeting, Jan. 28, Mayor David Pollock acknowledged that "with hindsight", he would have informed elected councilors earlier about the $50 million project.
None of the councilors voiced opposition to the project to help English-speaking troubled youth, but several said that they ought to have been advised much earlier about a project of this scope.
"The first phase of the project will be $5 million," the mayor disclosed.
He confirmed Batshaw's assertion that no zoning changes will be required.
"It's already zoned for two storeys," he said. "As long as they do not exceed two storeys, no zoning changes will be needed."
Asked whether he intends to run for re-election during municipal elections that will be held in November, the mayor declined to comment.
Batshaw Youth and Family Services aims to preserve as much woodland as possible at the 108-bed residence it wants to build in Beaconsfield for troubled youth. "We want it to blend into the community," said director Linda Corbeil.
(function(i,s,o,g,r,a,m){i['GoogleAnalyticsObject']=r;i[r]=i[r]||function(){
(i[r].q=i[r].q||[]).push(arguments)},i[r].l=1*new Date();a=s.createElement(o),
m=s.getElementsByTagName(o)[0];a.async=1;a.src=g;m.parentNode.insertBefore(a,m)
})(window,document,'script','//www.google-analytics.com/analytics.js','ga');
ga('create', 'UA-45892555-1', 'robertfrankmedia.blogspot.com');
ga('send', 'pageview');