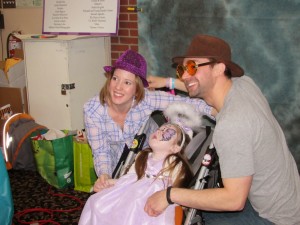 Lauren celebrates a milestone fourth birthday
By Rhonda Massad
www.thesuburban.com
Lauren Loughheed celebrated her fourth miraculous birthday with Krabbe disease surrounded by more than 120 other children, who came out with their families on the blistery February day for her annual birthday fundraiser at Dollard Civic Center.
Lauren's parents Stephen and Amanda Loughheed would like to lobby the provincial government to expand the panel of new born screening.
"Getting on top of the disease early can change lives. That's what we are looking for," Mr. Loughheed told The Suburban.
"I would like the provincial government to pass a bill that would include Krabbe in the panel of new born screening," Mr. Loughheed said in an interview. "The heal-prick blood test taken after birth would include Krabbe. It would cost an extra $2 per screening."
Lauren has a terminal disease known as Krabbe disease. According to the Mayo Clinic—Krabbe disease (KRAH-buh) is an inherited, often fatal disorder affecting the central nervous system causing severe degeneration of motor skills.
The disease affects muscle tone and movement, and may cause vision and hearing loss, among other devastating effects. In most cases, Krabbe disease develops in babies before six months of age, although it can occur in older children and in adults.
If we had know right away that Lauren was sick we could have looked at cord transplant before the onset of symptoms," Mr. Loughheed explained.
"Expanding new born screening could save the child's life. There are cases that children with older siblings that have Krabbe got tested early, had cord transplant and live a normal life today. The fact that Lauren was not screened means we did not have an option. Once symptoms appear it is too late."
To celebrate this amazing milestone, her parents Amanda and Stephen Loughheed—along with Rouge Event Design—put on a birthday party fundraiser. Included were family events, bouncy castles, a musician, face painting and a bake sale. Proceeds raised at this special event go to the MAB Mackay Foundation and Lauren's family. You can follow Lauren on her website www.lifewithlol.com
The heal prick blood test taken after birth would include Krabbe. It would cost an extra $2 per screening. Stephen and Amanda Longheed play dress up with Lauren for the photographer at her birthday party fundraiser.
(Photo © Rhonda Massad)
(function(i,s,o,g,r,a,m){i['GoogleAnalyticsObject']=r;i[r]=i[r]||function(){
(i[r].q=i[r].q||[]).push(arguments)},i[r].l=1*new Date();a=s.createElement(o),
m=s.getElementsByTagName(o)[0];a.async=1;a.src=g;m.parentNode.insertBefore(a,m)
})(window,document,'script','//www.google-analytics.com/analytics.js','ga');
ga('create', 'UA-45892555-1', 'auto');
ga('send', 'pageview');