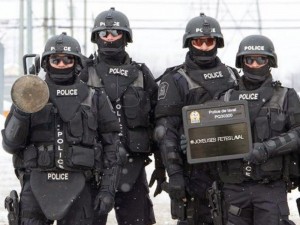 By Robert Frank
www.thesuburban.com
Judging by the flurry of flack foisted on Laval Police during the holidays, some residents just have too much time on their hands.
A handful of social network trolls pilloried the police service over a brief scene in a YouTube holiday greeting video which depicted members of the tactical squad wearing their protective gear, holding up a sign wishing viewers happy holidays.
Though felicitous comments far outnumbered a handful of Grinches' gripes, Laval Police nonetheless took the well-meaning imagery down from the Internet to avoid unintentionally offending residents.
"We want to remain close to people," Lt. Daniel Guérin told The Suburban in an interview. "It's important to good community policing."
The online Grinches were clearly motivated by the recent flood of adverse publicity about military weaponry deployed by American police in Ferguson, Missouri.
None of them took notice of the fact that the very same scene appeared in the Laval Police 2013 holiday video, without ruffling a single feather.
No weapons other than the standard sidearm that all police officers wear appeared in the video. The rest featured safety gear like helmets and ballistic vests, as well as a battering ram that they use to breach locked doors when conducting drug raids, for example.
Given the cold-blooded murder of two Paris police officers last week outside Charlie Hebdo's office, and two of New York's finest a week earlier, such potentially life-saving equipment is welcome.
We employ police to protect the public. To accomplish that objective, Laval Police have, for years, made an exemplary effort to reach out to all Laval's diverse communities, regardless of language, race, colour or creed. The online Grinches would instead do well to spare their invective for those who make mayhem in the world.
Coming to a drug den near you