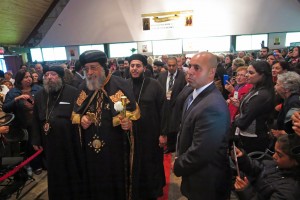 By Robert Frank
www.thesuburban.com
Hundreds of Coptic faithful packed St. Peter & St. Paul Coptic Orthodox Church on Lakeshore boulevard, Sept. 23, for the first visit of their Pope Tawadros II to Canada.
Pope Tawadros offered blessings and anointed two relics of the historic St. Peter & St. Paul that were donated by former Roman Catholic Pope Benedict XVI, church deacon Shahir Guindi told The Suburban.
Following the liturgy, the Pope responded to questions from the congregation.
The evening before, more than 700 federal, provincial and municipal dignitaries filled a ballroom in Laval for a dinner in honour of Tawadros II.
The Pointe Claire parish bought the building last year from the Roman Catholic Church, where St. Jeanne de Chantal congregation had been a presence southeastern Pointe Claire and Dorval's Strathmore district since 1922.
During the past few weeks, workmen raced to rebuild the church roof in order to get it finished in time for the papal visit. The interior was gutted and Guindi said that the church will only be officially consecrated once the refurbishment is complete.
Although the Coptic church originated in Egypt, where 14 million of the world's 18 million Copts still reside, the thriving Pointe Claire congregation now welcomes a wide range of ethnic backgrounds, through decades of intermarriage. Consequently, it is the first Coptic church in the Montreal region to eschew Arabic liturgy in favour of English.
Because of its Middle East origin, many Montrealers often mistake the Orthodox Christian Copts for Muslims.
Many of them came to Canada with little to their name, fleeing persecution in Egypt, where they are a minority of the population.
St. Peter & St. Paul faces opposition from Pointe Claire city council. Two weeks ago, The Suburban reported that the city voted May 9 to turn down the church's request to demolish the church and adjacent, derelict school buildings to build a new combined church and community center.
Pointe Claire Mayor Morris Trudeau and Councilor Paul Bissonnette ultimately accepted to attend festivities welcoming Pope Tawadros II, Guindi said, after initially turning down the Coptic church invitation.
Pope Tawadros II (holding white rose) enters Pointe Claire's new St. Peter & St. Paul Church followed by parish priest Fr. Peter Saad (right) and other Coptic Orthodox clergy.
(Photo © Robert Frank)
St. Peter & St. Paul Church parish priest Fr. Peter Saad greets Coptic Orthodox Pope Tawadros II (holding white rose) on his arrival in Pointe Claire, Sept. 23.
(Photo © Robert Frank)