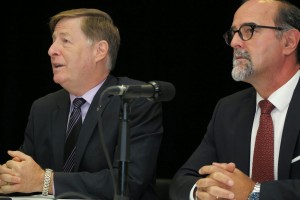 By Robert Frank
www.thesuburban.com
Laval Mayor Marc Demers won't say what the city found in 208 document boxes squirreled away in city hall's basement furnace room, but he plans to use whatever he discovered inside to try to recover money that he alleged was pilfered.
During a packed news conference, Sept. 10, Demers disclosed that he learned from a municipal employee that last year his predecessor, Gilles Vaillancourt, had alerted Florent Gagné—the provincial trustee who was running the city—to the boxes' existence. Demers said that Vaillancourt had asked that the boxes be returned to him.
The city demurred.
Instead, it combed through the contents before alleging last week that it had found evidence that, for more than two decades, Laval had paid more than it would have, had construction firms competed freely for city contracts.
Mayor Demers said that he intends to go to court to try to get back Laval taxpayers' money. He suggested that "millions of dollars" could be recovered, but declined to tell reporters the precise amount that the city is seeking from the individuals and corporations whom it intends to pursue.
"The system was in place for at least two decades," the mayor declared, "permitting significant sums to be diverted."
"I firmly believe that we can get some money back," Mayor Demers told reporters. When asked what the boxes contained, he declined to specify.
"That's factual," he replied tersely.
"The main purpose [of our actions] is to ensure that everyone understands that this [conduct] will not be [possible] in Laval anymore," he said. "Citizens have nothing to fear concerning collusion and corruption. We won't accept it."
The mayor used the occasion to highlight the 18-month prison sentence imposed Sept. 5 on former Laval en fleurs CEO Mathieu Lavoie.
"The conviction confirmed that Laval was a victim of Lavoie's schemes," he said, noting that city also recovered $70,000 from Lavoie. "It validated the decision to launch a civil suit against him."
Opposition politicians Robert Bordeleau and Jean-Claude Gobé both asserted that the mayor's decision to launch the lawsuit was premature.
"There's a criminal case underway," Gobé observed, referring to charges against Vaillancourt and dozens of others, which have yet to be proved in court. A preliminary hearing in that case is slated for April 7, 2015.
Gobé also questioned the legal fees that taxpayers must now shoulder for various city lawsuits. He suggested that Mayor Demers launched the civil suit "as a smoke screen" to distract the public from his own legal woes.
"How much will it cost them to pay for his defense in a trial slated for Nov. 1-2, which questions his eligibility to serve as mayor," Gobé said, "and what will become of his administration if he loses the case?"
Laval Mayor Marc Demers (left) said that colluders have bilked city taxpayers out of millions. He and city manager Serge Lamontagne (right) convened a news conference, Sept. 10, to announce that they've filed a lawsuit to try to get the money back.
(Photo © Robert Frank)
(function(i,s,o,g,r,a,m){i['GoogleAnalyticsObject']=r;i[r]=i[r]||function(){
(i[r].q=i[r].q||[]).push(arguments)},i[r].l=1*new Date();a=s.createElement(o),
m=s.getElementsByTagName(o)[0];a.async=1;a.src=g;m.parentNode.insertBefore(a,m)
})(window,document,'script','//www.google-analytics.com/analytics.js','ga');
ga('create', 'UA-45892555-1', 'auto');
ga('send', 'pageview');