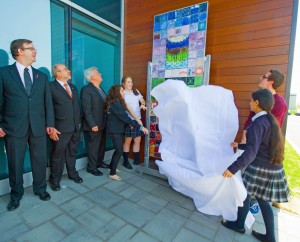 By Robert Frank
www.thesuburban.com
More than 100 high school students and professionals gathered for a motivational seminar at Sanofi Canada headquarters in Laval, May 15, designed to "inspire the next generation of scientists and researchers."
Students got to meet the pharmaceutical giant CEO Jon Fairest and its chief medical officer, Dr. Charles Hugh-Jones, as well as Institut national de la recherche scientifique researcher Dr. François Légaré and Canadian astronaut David St. Jacques.
"They talked about how you can make the world a better place through scientific knowledge," Laval Junior High School Grade 8 student Marissa Goncalves told The Suburban afterward.
"Science is very interesting," the Auteuil resident continued. "It helps you to understand how the world works and how we came to be here on Earth."
"I particularly liked the part where they described the arts as being part of science too," she enthused. "You create something. You think beyond the obvious. Science is like that too. You try to think outside of the box."
"I'm planning to study heath science," Goncalves said, "so I can help other people."
"It was a real eye-opener," added North Star Academy Grade 11 student Mairvat Amin. "One of the speakers asked all of us to stand up and raise our hand as high as possible, which we did. Then, he told us to put it higher. And we all did. The conclusion from that is that in life, if you try harder, you are going to stand out, and that is what is going to make you succeed."
Amin, who likes physics, told The Suburban that the Sanofi seminar helped her decide to pursue a science career. She intends to study at Marianapolis College this fall.
"It made me want to go into science more," said the Chomedey resident. "I was still open and unsure what career path I would like to take. Before, I was thinking maybe, but this event gave me the impetus to go into science. I would definitely recommend it to other students in the future."
Together with three other students, Amin was selected to unveil a mural that will grace the entrance to Sanofi headquarters. Designed by Bernard Séguin Poirier, the three-metre-high artwork incorporates tiles prepared by Laval students in 2013.
North Star Academy student Mairvat Amin helped artist Bernard Séguin Poirier unveil mural at Sanofi Canada headquarters entrance.
(function(i,s,o,g,r,a,m){i['GoogleAnalyticsObject']=r;i[r]=i[r]||function(){
(i[r].q=i[r].q||[]).push(arguments)},i[r].l=1*new Date();a=s.createElement(o),
m=s.getElementsByTagName(o)[0];a.async=1;a.src=g;m.parentNode.insertBefore(a,m)
})(window,document,'script','//www.google-analytics.com/analytics.js','ga');
ga('create', 'UA-45892555-1', 'robertfrankmedia.blogspot.com');
ga('send', 'pageview');