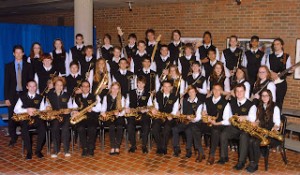 Music program triumphs again through enthusiastic peer mentoring


By Robert Frank
www.thesuburban.com
For the second year in a row, John Rennie High School jazz musicians earned gold recognition at Musicfest Canada in Toronto, May 17, as well as silver, in competition with bands from across the country.
JRHS music director Craig Hodgson credited the laurels to his students' enthusiasm for sharing what they have learned with their younger bandmates.
"That peer influence inspired me to make most JRHS jazz bands multi-grade, embracing students from Grades 7-11."
"I love the mentorship that is happening, because our young students are thriving," he enthused. "I don't know any other high school in the country that mixes grades like that. It helped them understand what it takes to get their playing to the level they need in order to succeed: the responsibilities of playing in an ensemble and the level of playing required became clear to them."
Judges amazed
JRHS bands are named for the day they meet to practice, rather than by grade level. Their broad age span initially dumbfounded competition judges in Toronto.
"They took me aside to ask me how such obviously young players were performing at such a high level," Hodgson recalled, "especially the Thursday jazz band, many of whom are quite young. So I had to clarify that half the band is made up of juniors and half of seniors."
Competitors are evaluated according to the age of the eldest members of the band, so John Rennie's bands were both assessed at the Grade 11 level.
"The Friday band trumpet section are all in Grade 8, but they are playing higher notes with a greater dynamic range of volume that puts them at the Grade 10-11 level," Hodgson said.
"Students have to be able to self-evaluate as they play. They can't just push the buttons," he added. "They have to think about what they are doing and tune every single note."
"That takes maturity."
In addition to the Thursday jazz band taking gold, the Friday jazz band took silver laurels.
Organizers permitted the school to enter two bands this year, because John Rennie was unable to attend the 2011 national championships in Richmond, British Columbia.
"We couldn't afford to go there," Hodgson explained. "Festival organizers told us that because we attained gold in the regional competition that year, we could defer that entry to another year."
The 37 musicians in John Rennie High School's jazz bands who won gold and silver laurels in Toronto span all Grades from 7-11.
JRHS music director Craig Hodgson credits his music students' keen enthusiasm and willingness to help their younger peers.
(function(i,s,o,g,r,a,m){i['GoogleAnalyticsObject']=r;i[r]=i[r]||function(){
(i[r].q=i[r].q||[]).push(arguments)},i[r].l=1*new Date();a=s.createElement(o),
m=s.getElementsByTagName(o)[0];a.async=1;a.src=g;m.parentNode.insertBefore(a,m)
})(window,document,'script','//www.google-analytics.com/analytics.js','ga');
ga('create', 'UA-45892555-1', 'robertfrankmedia.blogspot.com');
ga('send', 'pageview');