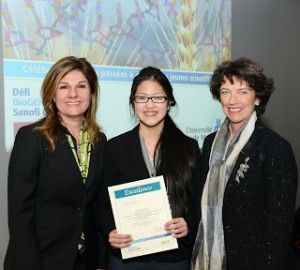 Kudo to science prodigies garners almost 1,000,000 hits
By Robert Frank
www.thesuburban.com
International space station commander Chris Hadfield turned the whole world's eyes on official opening festivities at Sanofi's new headquarters in Laval's biotech city, May 6.
The Canadian astronaut sent a message of encouragement to two Laval wunderkinds: Eunice Linh You of Laval Liberty High School in Chomedey and David Drouin of Curé Antoine Labelle school in Ste. Rose. Sanofi had invited the pair to inspire an audience of 130 French and English high school students, with a talk about how they won provincial laurels this year in the BioGENEius science competition that the pharmaceutical and consumer health giant sponsors. Last week, The Suburban reported on how Linh You's recent provincial win in the Saguenay will next take her to upcoming international meet in Arizona.
Col. Hadfield got wind of the activity, and wrote from space:
"Proud to see the next generation of scientists like BioGENEiuses Eunice Linh You and David Drouin share their knowledge with other youth!"
"As a result of that one tweet, the #biogeneius hashtag got almost a million hits," Sanofi spokeswoman Joanne Kennedy told The Suburban in an interview. "He really shone a light on them."
Kennedy explained that Sanofi's stake in activities like the BioGENEius competition is part of a deliberate strategy to develop a close bond with the community.
"With our investment in Laval, and in Quebec in general, it's important to Sanofi to work together as partners," she emphasized. "That's why we consolidated our various businesses such as pharmaceuticals and consumer health together in a single location in Laval's biotech city."
"This is part of the collaborative model that is integral to how Sanofi wants to do business," she continued. "We're here for the long-term."
More than 200 guests joined Sanofi ceo John Fairest at the opening ceremonies. Dignitaries included Laval mayor Alexandre Duplessis, French ambassador Philippe Zeller and Quebec finance minister Nicolas Marceau.
Laval's biotech cluster is, by far, the biggest magnet for industrial investment in Quebec's third-largest city. According to the biotech city's new director Jean-Marc Juteau, last year alone it attracted more than a quarter billion dollars to drive Laval's booming economy.
(Left to right) Sanofi vice-president Franca Mancino, Laval Liberty High School Grade 11 student Eunice Linh You and University of Montreal chancellor Louise Roy.
International Space Station commander Chris Hadfield send message of encouragement to Laval science students Eunice Linh You and David Drouin.
(function(i,s,o,g,r,a,m){i['GoogleAnalyticsObject']=r;i[r]=i[r]||function(){
(i[r].q=i[r].q||[]).push(arguments)},i[r].l=1*new Date();a=s.createElement(o),
m=s.getElementsByTagName(o)[0];a.async=1;a.src=g;m.parentNode.insertBefore(a,m)
})(window,document,'script','//www.google-analytics.com/analytics.js','ga');
ga('create', 'UA-45892555-1', 'robertfrankmedia.blogspot.com');
ga('send', 'pageview');