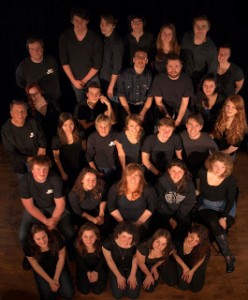 Only Canadian college selected to perform at Edinburgh


By Robert Frank
www.thesuburban.com
Twenty-eight John Abbott College theatre arts students will be heading to Scotland in August to perform Dylan Thomas' classic play Under Milk Wood at the Edinburgh Fringe Festival.
It's the second time that the CEGEP's young performers have been tapped to play at the most important theatre festival in the world. In 2011, John Abbott sent a troupe there to perform Edward Bond's Tin Can People, a dystopic drama set in a post-apocalyptic future.
Once again this year, they will be the only Canadian college troupe selected to perform in Edinburgh.

"The experience there was extremely intense, because the students witnessed so much theatre performed by so many artists from around the world," recalled Montreal actor Joan McBride, the spark behind the previous and upcoming sojourn.
"The trip showed them that they could aspire to a theatre career," enthused McBride, who taught theatre at John Abbott for more than three decades. "It confirmed what their hearts were telling them and took their passion, hopes and dreams and channeled them into something that they realized they could do, if they made the right life choices."
"Several John Abbott student actors who performed overseas in 2011 are doing extremely well," she noted. "Trevor Barrette returned from Edinburgh to have his play accepted for production by Persephone Theatre. He subsequently successfully auditioned to perform as the main character in The Steven Truscott Story at the Centaur Theatre as well as at the National Arts Centre in Ottawa."
"In addition, Beecher Pinet, who served as assistant lighting board operator in 2011, will be returning to Edinburgh this year to serve as lighting designer and assistant technical director."

Fundraising performances, gala
McBride added that the students will be paying their own way to Edinburgh, which amounts to nearly $3,000 per student, plus airfare. To help them defray the cost of the trip, John Abbott College has organized a week of performances at its Casgrain Theatre, June 11-15.
She's urging the public to support the young thespians by booking $10 advance tickets to the performances at: www.brownpapertickets.com.
In addition, John Abbott is organizing a Kilts'n'Celts fundraising barbecue at the college, which is slated to start at 6 p.m., June 15, just prior to the finale performance. To celebrate the Scottish fringe venue and the Dylan Thomas play, participants are encouraged—though not obliged—to wear traditional Highland or Welsh attire, in order to add a Celtic flavour to the closing gala.
John Abbott College's 32-member theatre company will be heading to Scotland in August to perform Dylan Thomas' play Under Milk Wood.
(function(i,s,o,g,r,a,m){i['GoogleAnalyticsObject']=r;i[r]=i[r]||function(){
(i[r].q=i[r].q||[]).push(arguments)},i[r].l=1*new Date();a=s.createElement(o),
m=s.getElementsByTagName(o)[0];a.async=1;a.src=g;m.parentNode.insertBefore(a,m)
})(window,document,'script','//www.google-analytics.com/analytics.js','ga');
ga('create', 'UA-45892555-1', 'robertfrankmedia.blogspot.com');
ga('send', 'pageview');