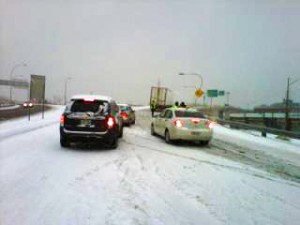 The Suburban rapport genljuder runt om i världen
Av Robert Frank
www.thesuburban.com
Världen sikhiska Organization (WSO), som främjar och förespråkar för skyddet av de mänskliga rättigheterna för alla individer, oavsett ras, religion, kön, etnicitet och social eller ekonomisk status, har uttryckt sin oro över en händelse under vilken en Montreal polisinspektör påstås bröt en lokal Sikh lastbilschaufförernas armbåge, lämnar honom oförmögen att arbeta under tre månader, samt en permanent partiell förlust av arm flexibilitet.
"Anklagelserna som riktats mot Sgt. Bigras är mycket allvarliga och chockerande för den sikhiska commanity, "Mukhbir Singh, WSO vicepresident, Quebec och Atlantic Canada, berättade The Suburban i ett e-postmeddelande.
The Suburban betänkande, för två veckor sedan, att Quebec polisetik kommissionen har lämnat in tre laddningar mot Montreal polis 3380, Sgt. Patrice Bigras-avseende rasism, otillåten och övervåld-har resonerat i indiska nyhetskanaler över hela Kanada och liksom på den indiska subkontinenten.
Flera medlemmar av Montreals Indo-kanadensiska samhället tackade tidningen efter rapporten visade, hävdar att Narinder Singh Minhas klagomål om att han var illa behandlad var långt ifrån en isolerad händelse.
Traktor och släp föraren sade att han i onödan blev skadad och därefter behandlas respektlöst, november 23, 2011, efter att hans lastbil kört fast i inte plogas blöt snö och is på Sources överfart på riksväg 20 i Pointe Claire.
Förutom den fysisk skada, hävdar Minhas, en hängiven Sikh, att vittnen såg Sgt. Bigras slå honom i bakhuvudet, ta bort turbanen att hans tro kräver honom att bära vid alla tillfällen.
"Om dessa anklagelser kan styrkas, skulle vi förvänta oss exemplariskt åtgärder vidtas mot Sgt. Bigras för att säkerställa att ingen behandlas på ett brutalt och respektlöst sätt i framtiden, "WSO Kanada Executive Mukhbir Singh hävdade.
"Montreal är en kosmopolitisk stad som är öppen för världen", konstaterade han. "Vi har alla en roll att spela i kampen mot rasism-i ord av sikher" tionde Guru: "Erkänner alla mänskligheten som en."
Den etiska Kommissionen kritiseras för att börja höra anklagelserna mot Sgt. Bigras, 11 nov.
Under tiden, Sgt. Bigras har också lagt sina egna, åtal mot Minhas över samma händelse, nämligen att Minhas begått ofog och stört en polis under sin plikt.
Minhas advokat, Serge Segal, visades på en pro-forma domstolsförhandling, March 12, föranledd av de åtal.
"Fallet kommer att fortsätta den 21 juni, vid vilken tidpunkt ett datum för förhandling om sakfrågan kommer troligen att beslutas," Segal berättade The Suburban.
Bilar, traktor-trailer lastbil fastnat i blöt snö och is på Sources överfart i Pointe Claire, 23 november 2011.
(function(i,s,o,g,r,a,m){i['GoogleAnalyticsObject']=r;i[r]=i[r]||function(){
(i[r].q=i[r].q||[]).push(arguments)},i[r].l=1*new Date();a=s.createElement(o),
m=s.getElementsByTagName(o)[0];a.async=1;a.src=g;m.parentNode.insertBefore(a,m)
})(window,document,'script','//www.google-analytics.com/analytics.js','ga');
ga('create', 'UA-45892555-1', 'robertfrankmedia.blogspot.com');
ga('send', 'pageview');