Quebec Premier Philippe Couillard dropped in at Palmo restaurant in Ste. Dorothée, Sunday, to announce that the Quebec Liberal Party has picked Laval resident Monique Sauvé to run in the upcoming byelection in Fabre riding.
Dedicated dad Gilles Ouimet represented the riding for three years until he resigned, Aug. 24, to spend more time with his eight-month-old son. Ouimet was on hand with the toddler in his arms, to wish Sauvé well.
With the whole Laval caucus as well as Transport Minister Robert Poëti in tow, Premier Couillard proceeded to praise Sauvé for her human resources and entrepreneurial acumen, which he hopes to profit from, if she is elected.
Couillard declined to specify the date of the byelection, likely in late November, once the current federal election has wrapped up.
According to party insiders, the Liberals looked at several potential candidates before settling on Sauvé, because of her strong local presence.
Sauvé, who has lived with her family in Laval for a quarter-century, founded the Laval youth employment forum 20 years ago. For the past nine years, she also chaired the network of Quebec youth employment forums until she resigned, Oct. 2.
The announcement went unperturbed by picketers, though a heavy police presence was on hand in case of protests against the Liberal government's austerity measures. They included a phalanx of plainclothes Sûreté du Québec bodyguards as well as a four Laval police officers in a pair of squad cars and an unmarked white cube van parked at a discreet distance.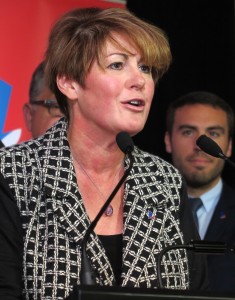 Human resources entrepreneur and longtime Laval resident Monique Sauvé (Photo © Robert Frank)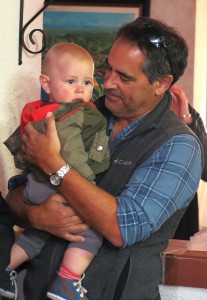 Gilles Ouimet resigned to spend more time with his eight-month-old son (Photo © Robert Frank)