The Canadian diabetes epidemic hasn't reached American proportions yet, but it's on its way there.
Nearly one in five of American children aged seven to 12 are obese. Even though fewer children here are obese, the Canadian figure—about one in eight—is still cause for concern. By high school, though the figures soar: one in five boys 12-17 are obese, according to Statistics Canada.
That's a serious public health problem. Obese children tend to grow up to become obese adults, radically ratcheting up their risk of heart attack, diabetes and cancer.
As a result, Laval is the first major city in the province to grapple with the problem. It wants to take temptation out of reach of the city's schoolchildren.
Last month, city council directed city manager Serge Lamontagne to come up with a way to address the problem posed by fast-food restaurants that proliferate near Laval schools.
"Fast-food restaurants actually target kids," St. Vincent de Paul Councillor Paolo Galati told The Suburban.
"The fats and sugar in the [high-calorie] food that they serve lead directly to health problems," said Galati who, since last year's election, also serves as a Sir Wilfrid Laurier School Board (SWLSB) commissioner. "We want kids to grow up to be healthy adults."
He underscored SWLSB's nutrition initiatives.
"Our kids are not allowed to bring junk food into our schools," Galati declared. "It has to be nutritious. Also our [cafeteria] caterers can't serve foods like hot dogs or fries on their menus."
Laval executive committee vice-chairman David de Cotis credited Olympic gold medalist Sylvie Bernier for putting youth nutrition on the city's radar.
"Parents have the primary responsibility for educating their children about the adverse effects of fast food," he acknowledged in an interview, "and the municipality will work in tandem to help them out by discouraging young children from going out to buy fast food during the school day."
De Cotis added that the city might consider prohibiting fast-food restaurants from setting up shop around schools.
"I don't think we would remove existing restaurants that are already established," he said. "We're looking at new establishments. We can, as a municipality, discourage them from setting up around schools."
"We've asked [Lamontagne] to study how other cities have implemented these bylaws and come back to council with a recommendation," De Cotis concluded.
Earlier this year Laval began the process of revamping its urban development plan. It remains to be seen whether Montreal, Quebec City and other municipalities will emulate Laval's lead.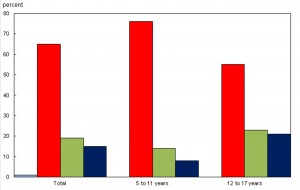 One in five boys 12-17 are obese, according to Statistics Canada