It's crunch time for candidates. Citizens will begin to cast their federal election ballots this weekend, as Elections Canada polling stations across the country open their doors early. Eligible voters may cast their ballots from noon-8 p.m., Oct. 9-12 at the address indicated on the voter information card that they received in the mail.
About one in seven Canadians (14 percent) voted in the three day advance polls during the 2011 federal election—some two million eligible voters. Due to the strong demand, Elections Canada has extended the advance ballot to four days this year.
"You will need two pieces of identification to prove your identity and address," Elections Canada spokeswoman Francine Bastien told The Suburban. "The only difference this year is that the voting card which is sent to every individual voter can't be used as identification."
"Voters must first produce government issued identification with their address and name on it and another piece which shows their address such as an electricity or telephone bill," she explained in an interview. "A photograph is not a requirement. In reality, what happens is that the vast majority vote with their driver's license, because it confirms both identity and address."
Where do I vote?
If you haven't received your voters card in the mail, you can easily find out where to vote via the Internet. Just visit the elections.ca web site and enter your postal code in the My voter information box. Then click on the Where do I vote? link on the page that it will take you to.
Don't have Internet access? No problem. Elections Canada operates a toll free telephone number 1-800-463-6868 (1-800-GO-DO-TO-8) that voters can call for information.
If you're unable to vote in the advance poll or on election day, Oct. 19, you still have a couple more options at your fingertips.
"You can vote by visiting an Elections Canada office if you are on the electoral list and bring the proper identification with you," Bastien said. "You can also vote by mail. You can ask for a ballot online or by phoning your local Elections Canada office by Oct. 13. Voters will receive a form and will provide identification, which can be sent by fax. This is very helpful to people who will be away or experience reduced mobility."
"The mailed ballot has to reach Ottawa by 6 p.m., Oct. 19," she added, "so you have to take into account the amount of time it will take to get there."
Most Canadians who have been living outside of Canada for more than five years and are still living abroad will be ineligible to vote, Bastien acknowledged, though there are a few exceptions.
"If that person worked for a body to which Canada contributed, for example," an expatriate might be eligible to vote, she suggested.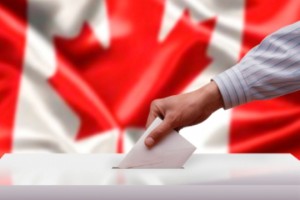 Get out and vote!