Last week, Montreal public safety director Louise Bradette told Beaconsfield residents that the agglomeration is striving to stem the risk to residents and to the environment posed by manufacturers such as the Styrochem polystyrene plant in Baie d'Urfé.
After Baie d'Urfé resident Jean-Pierre Themens alleged last year that emissions had caused a local cancer cluster, The Suburban learned that styrene—the raw material Styrochem uses—is also highly explosive and that after a blast, prevailing winds would carry toxic fumes to Western Beaconsfield within minutes.
If that happened, staying indoors might be the best approach, Beaconsfield urban planning director Denis Chabot suggested. Sealing all windows and doors could help keep toxic fumes from infiltrating.
According to Beaconsfield Mayor Georges Bourelle, Baie d'Urfé nixed Styrochem's bid to boost its 96,000-gallon styrene storage capacity by 25 percent. But Bradette acknowledged that Styrochem may still store additional styrene in a dozen tank cars on its railway spur off the Canadian Pacific transcontinental rail line. The tank cars can only remain for five consecutive days, Bradette said, but are immediately replaced, effectively permitting Styrochem to keep twice the styrene it is authorized to hold in its municipally and provincially regulated reservoirs.
Given that rail falls under federal jurisdiction, The Suburban asked all five candidates in the Oct. 19 federal election to share how they would approach the risk that the adjacent styrene storage poses. Here are their replies:
Éric Girard, Conservative party
Our government is proud of our safety record: Increasing oversight by recruiting additional staff to carry out more frequent audits; rail safety inspectors are up by close to 10 percent and dangerous goods inspectors are up over 85 percent; requiring railway companies to meet standardized requirements for hand brake application; increasing fines from $200,000 to $1 million for companies found to be in breach of the Railway Safety Act; removing the least crash-resistant DOT-111 tank cars from service; requiring emergency response assistance plans for even a single tank car carrying crude oil, gasoline, diesel, aviation fuel, and ethanol; bringing in The Safe and Accountable Rail Act to give inspectors more enforcement tools; increased information sharing between municipalities and rail companies; and creation of a new liability and compensation régime for rail.
Francis Scarpaleggia, Liberal party
I would contact municipal safety authorities to seek assurances that the Styrochem site is secure from intrusion. On the federal side, I would contact the new transport minister to ask why Canadian rules governing the securing of unattended trains appear to be less stringent than in the U.S., where operators must verify that a train has been "properly secured with the required number of handbrakes" with another "trained and qualified employee." Canadian regulations only state that the rail operator must verify with "another employee," who is not required to have special training. I will also enquire if the rules prohibit remote control (with a device called a beltpack) when a train carries hazardous materials through populated areas. Finally, I will ask how Transport Canada ensures that its regulations governing the length of time that tanker cars can remain on a site are respected.
Ryan Young, New Democratic party
Most people in Lac St. Louis riding live within one kilometre of a rail line. That was the blast zone in Lac Mégantic. Styrene is an explosive. We could have a major disaster on our hands if this is not better regulated. The company is following the regulations, but the regulations don't go far enough. The NDP would like to see the government reclaim a central role in regulating public safety and have more on-the-ground inspectors. At the moment, companies are self-policing and their inspection reports are filed away. Unless there is some big issue, there is no follow-up or investigation.
Bradford Dean, Green party
It is a disaster waiting to happen. There have been instances where an explosion did occur. There has been a weakening of the environmental laws. In 2012, the Canadian Environmental Assessment Act (CEAA) was changed. Even if there was public concern about environmental hazards such as potentially unstable styrene, the process to investigate is no longer there. The site deserves an environmental assessment from an independent body. The only way a complaint can actually make it to the federal level now is by litigation. Going to court is a very lengthy and costly process. The Green party would return the CEAA to what it was before 2012, so public concerns would be heard and acted upon.
Gabriel Bernier, Bloc Québécois
The Lac Mégantic uncovered serious gaps in Canadian rail safety. Transport Canada lets companies determine for themselves the rules that they are subject to and also has cut back on inspecting rail cars carrying toxic and dangerous goods. The Bloc Québécois will insist that rail transport safety rules for dangerous goods are tightened immediately. First, we will stop railway company self-regulation. We will also quadruple the number of inspections and dramatically increase fines for offenders, to ensure that the rules are followed. Finally, the Bloc Québécois is committed to hire more Transport Canada railway inspectors, paid for by a special tax on the transport of dangerous goods.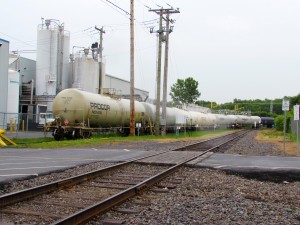 Up to a dozen tank cars filled with explosive styrene stay on Styrochem site continuously. (Photo © Rhonda Massad)