Jennifer Maccarone thinks that Quebec's English school boards are a model the entire province should follow, and she wants to bring that message to Quebec City.
The Sir Wilfrid Laurier School Board (SWLSB) chair has tossed her hat in the ring to run the Quebec English School Boards Association.
"Quebec tends to look at Ontario and France when it wants to benchmark how to do better," Maccarone told The Suburban. "Why not look in our own back yard? Quebec's nine English school board success rate, at 84.4 percent, is higher than Ontario's."
SWLSB has been successful. It's churning out graduates with better French-language skills than their counterparts at the province's French schools. It's paradoxical, Maccarone observed wryly, that one way to improve the quality of French in Quebec would be to send French students to English schools.
"SWLSB is number one in the province, where students averaged 94.4 percent on the Français langue maternelle exam," she enthused. "That's ahead of all the French school boards."
French school boards like Commission scolaire de Montréal (83.8 percent), Marguerite Bourgeoys (87.7 percent) and Pointe de l'île (80.7 percent) fare much worse in terms of its graduates French-language skills.
"We're not just graduating future, bilingual Quebec leaders," Maccarone smiled, "we're doing it so much better."
Maccarone has repeatedly reminded the Couillard government of the pivotal role that schools play for Quebec's English-language minority.
"Our schools are community hubs. They're places where our minority group comes to make a contribution," she said. "It's where your ethno-linguistic identity is built. Your community is your school. It plays an important role in rural communities like Arundel or Rawdon or Lachute, where people can network, play sports and receive health care services. Your schools are more than just schools. We ought to change their names to reflect that."
"That's what is so important about potential changes to [school board] governance," Maccarone explained in an interview. "Voters in each of those region need to be able to reach out to a local, elected representative who is aware of the community's needs and its realities and can echo those requirements at a larger table at all consultation processes to ensure that those people's voices are heard."
"Members of linguistic minorities often face increased barriers to education, employment and communications," she said. "Sometimes you feel a sense of isolation. You need to have institutions that affirm your identity to be able to elect a person who will help them further that. If school boards are the only institutions that are elected to represent your community, why on earth would you want to give up that right?"
The issue spills across Quebec's borders throughout the rest of Canada, she added, because how English schools here ultimately are ruled could affect control of French-minority school boards in other provinces.
"Our rights go further than that," Maccarone asserted. "This will set a huge precedent. Our French counterparts outside the province are looking at this very closely."
Maccarone and her opponent in the election to determine who will chair QESBA, Eastern Townships School Board chair Michael Murray, will face off in a debate, Oct. 13, that QESBA will stream live over the Internet.
Leaders of Montreal's two English school boards Sylvia Lo Bianco (English Montreal) and Suanne Stein Day (Lester B. Pearson) are running against one another to be elected QESBA vice-chair. The school boards crossed swords last year after Stein Day opened Pearson's international vocational school on EMSB territory in downtown Montreal.
Each of the Quebec's almost 140 English school commissioners, including parent commissioners will then be able to cast their ballot electronically. QESBA intends to announce the outcome before its annual meeting wraps up, Oct. 17.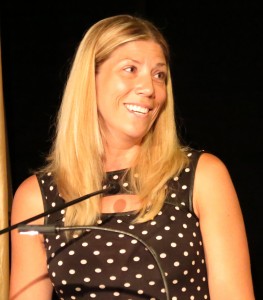 "School boards are the only institutions that are elected to represent your community," said Jennifer Maccarone. (Photo © Robert Frank)
[Note: This report has been revised. The original version incorrectly stated that Angela Mancini was running against Suanne Stein Day to become QESBA vice-chair]