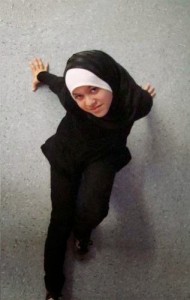 By Robert Frank
www.thesuburban.com
Two 18-year-old youths, Bilel Zouaida of St. François, and Shayma Senouci of Ste. Rose, as well as an unidentified third young Laval woman are reportedly among six teenagers who have left Canada, Jan. 16, to join Middle East militants.
"We did have a missing person report about a Laval resident that was filed in Montreal, Jan. 18, but we soon realized that the person was not missing at all," said Laval Police Sgt. Frédéric Jean, who declined to confirm the youths' identities.
"We're not releasing their names," he told The Suburban in an interview. "We know where they've been. They're adults and can go wherever they want on the globe."
The sextet allegedly made their way to Syria via Turkey after they decamped.
Several were enrolled at Collège de Maisonneuve, where they reportedly studied under the leadership of Islamic activist Adil Charkoui, who leased space at the CEGEP.
After convicted millennium bomber Ahmed Ressam accused the Moroccan-born Charkoui of being an Al Qaeda sleeper agent, Canadian authorities kept Charkoui in custody for two years, until he was released on bail in 2005. In 2009, a court overturned his arrest.
During a news conference, Feb. 27, Charkoui told reporters that he had nothing to do with radicalizing the students, and reproached the college for having cancelled his lease there.
Laval-Levant axis
Laval has a significant Middle Eastern community that maintains tight ties with its homeland.
"They keep a close watch on what happens in Syria," a senior police official told The Suburban. "They're quite concerned."
Until the recent spate of young Canadians defecting to serve the nascent Islamist state, federal, provincial and local law enforcement officials had concentrated on keeping a close eye on the flow of funds from criminal activity that was finding its way to fill Middle East extremist coffers.
"It takes different forms," the official said in an interview. "They include proceeds from drug trafficking, smuggling, car theft, and fraud."
"Extortion is still big here," the official added, explaining that the local thugs routinely prey upon their own countrymen. "Many crimes are not reported to us, as a consequence. People don't come forward. Even when we find out, they don't want to lodge a complaint and it's hard to work with them, because they are concerned for their safety. If they don't come forward, there's nothing that we can do."
News outlets scoffed in the late 1990s, after Montreal Police intelligence officials first identified publicly this new phenomenon, which they dubbed gangsterrorisme.
They reported that they were starting to see criminals who were more than mere petty lawbreakers—but not quite full-blown professional terrorists.
Months later, their Cassandra-like warning was vindicated, after United States border officials intercepted Ressam, Dec. 14, 1999, when he attempted to drive across the border carrying explosives that he had intended to use to blow up Los Angeles International Airport.
Shayma Senouci
(function(i,s,o,g,r,a,m){i['GoogleAnalyticsObject']=r;i[r]=i[r]||function(){
(i[r].q=i[r].q||[]).push(arguments)},i[r].l=1*new Date();a=s.createElement(o),
m=s.getElementsByTagName(o)[0];a.async=1;a.src=g;m.parentNode.insertBefore(a,m)
})(window,document,'script','//www.google-analytics.com/analytics.js','ga');
ga('create', 'UA-45892555-1', 'auto');
ga('send', 'pageview');