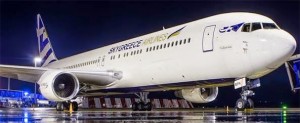 By Robert Frank
www.thesuburban.com
Montrealers will soon be able to enjoy nonstop flights directly to Athens.
SkyGreece Airlines has announced that it intends to offer weekly departures, starting on Saturday, May 23. As this edition of The Suburban went to press, the Laval-based airline expected that it will make another announcement today.
The move will be a boon to Canada's Greek community, which has had to endure the delays and frustrations of connecting flights when visiting the Hellenic Republic. It will also facilitate tourism to the wonders of Ancient Greece.
The airline, which will also operate flights to Greece from New York and Toronto, has established its North American headquarters in Chomedey.
"All commercial decisions regarding SkyGreece airlines are coming out of the North American Headquarters here," Denis Codere told The Suburban.
"Decisions as to where it will fly in North America and Europe are made by people at the headquarters in Laval," the air carrier's newly appointed deputy chief commercial officer said in an interview.
In addition to the weekly flights from Montreal, Codere said, SkyGreece plans to offer non-stop flights from Toronto as well.
"This summer we will operate three flights a week from Toronto to Athens and one flight a week to Thessaloniki," Greece's second-largest city, he added.
Once winter rolls around again, the airline will scale back its Toronto schedule to two weekly flights to Athens from November until April 2016.
There's no word yet as to whether SkyGreece will at some point add a direct Montreal-Thessaloniki flight to its schedule.
Athens nonstop flights to commence May 23.
(function(i,s,o,g,r,a,m){i['GoogleAnalyticsObject']=r;i[r]=i[r]||function(){
(i[r].q=i[r].q||[]).push(arguments)},i[r].l=1*new Date();a=s.createElement(o),
m=s.getElementsByTagName(o)[0];a.async=1;a.src=g;m.parentNode.insertBefore(a,m)
})(window,document,'script','//www.google-analytics.com/analytics.js','ga');
ga('create', 'UA-45892555-1', 'auto');
ga('send', 'pageview');