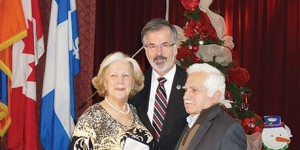 By Rhonda Massad
www.thesuburban.com
On Dec. 14, members of the National Armenian Committee, Laval dignitaries and MNA for Chomedey, Guy Ouellette acknowledged the exceptional volunteer work of Siroun Melkonian by awarding her the Medal of the National Assembly.

Melkonian is a mother, grandmother and married for 50 years. She works tirelessly for those less fortunate and contributes significantly to those in need in the Laval community.
At the end-of-year celebrations at the Armenian Community Center, Ouellette spoke out about the tremendous contribution Melkonian has made acknowledging her work, filling out thousands of tax returns as a helper in the Revenu Québec volunteer program and as a volunteer at the Carrefour d'intercultures, where she also helped many newcomers integrate and begin their lives in Quebec.
Melkonian also volunteered at the Association lavalloise pour le transport adapté and part of the Télé-Bénévole committee for the meals-on-wheels program.
"It came as a complete shock," Melkonian told The Suburban in an interview, "I had no idea what was happening. Mr. Ouellette found me a chair when I told him my back was aching. I sat down and then he started talking about my charity work. When he reached for the medal from the National Assembly I was taken aback. I am so honoured by this recognition but I was certainly not expecting it."

Melkonian is president of the National Armenian committee, speaks six languages, Armenian, Arabic, Turkish, Greek, English and French. Between 1993-1998, she participated in establishing the Sourp Kevork Church in Laval.
(Left to right) Medal recipient Siroun Melkonian, Chomedey MNA Guy Ouellette and Varouj Melkonian, Mrs. Melkonian's husband.
(function(i,s,o,g,r,a,m){i['GoogleAnalyticsObject']=r;i[r]=i[r]||function(){
(i[r].q=i[r].q||[]).push(arguments)},i[r].l=1*new Date();a=s.createElement(o),
m=s.getElementsByTagName(o)[0];a.async=1;a.src=g;m.parentNode.insertBefore(a,m)
})(window,document,'script','//www.google-analytics.com/analytics.js','ga');
ga('create', 'UA-45892555-1', 'auto');
ga('send', 'pageview');