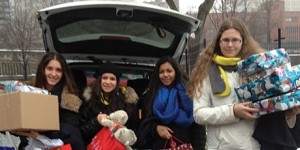 By Michelle Pucci
www.thesuburban.com
When North Star Academy student Kyle Anderson took in the amount of his unused possessions, he decided it was time to give them away.
Hoping to donate them to someone who might appreciate his things, Anderson approached his principal and the school's guidance counsellor Susie Nemes about taking the idea to his peers.

"I knew that some people that have Christmas won't have as much as us, so I thought about that idea," he said. The Laval school reached out to Tyndale St. George's Community Centre in Montreal and started a campaign to support a single mother and her six children.
Last week, after collecting clothes, toys, two bicycles, homemade Christmas stockings and a turkey, Nemes delivered the gifts to the community centre with five volunteer students last week.
"They were just enjoying every minute and asking lots of questions and we got a little bit more information about the family," Nemes said.
They didn't get to meet the family, but were told the mother was going back to school, and her children participate in afterschool activities. The students were given a tour of the centre to learn more about its support services for children.
(Left to right) Bianca Garabedian, Riwa Jaafar, Mariz Saman and Jessica Tiramani.