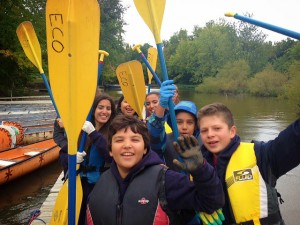 By Robert Frank
www.thesuburban.com
Litterers have left lots of junk metal on an island in the Mille Îles river, a North Star Academy wildlife and environmental clean-up group discovered.
The ten teenage high school students paddled to Île aux Fraises last month to participate in a national event called the Great Canadian Shoreline Cleanup (www.shorelinecleanup.ca), one of the largest direct-action environmental activities in Canada.
"We found metal. Lots of metal," science teacher Marina Robinson told
The Suburban.
"The biggest was a lot of big chunks of old stovetops and stuff like that. It was tough fitting the metal that we removed in the canoe, but we got it in there."
Robinson said that the outing encourages her students to engage in their natural surroundings.
"They get to help the environment," she explained in an interview. "The students who participate are very environment-conscious and are eager to protect nature, so they get to help first-hand and see how they can make a difference. Every little bit helps."
"The people at the Rivière des Mille Îles park do a great job of keeping up the place and we look forward to helping out again next year," Robinson added. "It's a great setup that includes nice islands."
"This is North Star Academy fifth year participating in the Great Canadian Shoreline Cleanup," she continued. "We visited a different island last year, and in 2012 we participated in a shoreline cleanup at John Abbott College in Sainte Anne de Bellevue."
The Great Canadian Shoreline Cleanup began in British Columbia in 1994, when a small team of employees and volunteers at the Vancouver Aquarium decided to clean up a local beach in Stanley Park to help protect the city's shorelines.
Today, tens of thousands of people participate in similar activities across Canada.
More information is available on the group's Facebook page: www.facebook.com/shorelinecleanup
Strawberry fields forever
Alexander Batista-Frantzeskos, Kyle Anderson, Salwa Seddougui, Safaa Seddougui and Gina Nue were among a posse of North Star Academy students who removed scrap metal marring Laval's Île aux Fraises.