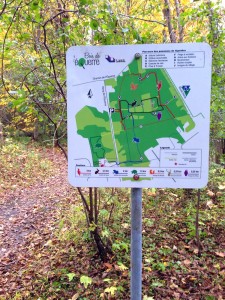 By Rhonda Massad
www.thesuburban.com
Taking a fall walk in Bois de l'Équerre? You will be happy to note that as of Oct. 9, signage has been installed to make an already enjoyable walk more fun and interactive.
The signs offer a variety of trails each named for a small animal such as rabbit or owl. Trails vary in length from 0.25 km-4 km and are now clearly marked for trail blazers.
The remarkable flora and fauna are to be discovered along the paths speckled with picnic tables and rest spots.
The woods are some of the last large natural areas accessible north of Laval.
The 225 hectare ecosystem contributes to the quality of life of citizens.
More information and a video with an overview of the rich wooded area can be found at
www.boisdelequerre.org
Take a fall stroll on one of several trails now with new signage at Bois de l'Équerre gets new signs.
(function(i,s,o,g,r,a,m){i['GoogleAnalyticsObject']=r;i[r]=i[r]||function(){
(i[r].q=i[r].q||[]).push(arguments)},i[r].l=1*new Date();a=s.createElement(o),
m=s.getElementsByTagName(o)[0];a.async=1;a.src=g;m.parentNode.insertBefore(a,m)
})(window,document,'script','//www.google-analytics.com/analytics.js','ga');
ga('create', 'UA-45892555-1', 'auto');
ga('send', 'pageview');