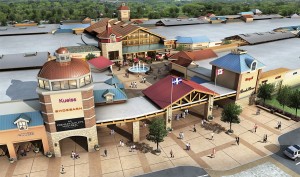 By Tracey Arial
www.arialview.ca
Simon and Calloway will open their Premium Outlets Montreal Centre in Mirabel at Exit 28 on Highway 15 at the intersection of Notre Dame and Versailles, October 30.
Upmarket stores like Polo Ralph Lauren, Michael Kors, Max Mara, Tommy Hilfiger, Calvin Klein and Hudson Bay will sell products at discounts ranging from 25-60 per cent. The project is designed to serve four-and-a-half-million people in Montreal, Laval and surrounding areas.
The project is 50 per cent owned by Simon Property Group, Inc. in partnership with Calloway Real Estate Investment Trust and SmartCentres.
This will be the second such centre opened in Canada and the 84th in the world. The Toronto version opened in Halton Hills in August 2013 and continues to surpass profit expectations.
The same site includes a residential project containing 2,000 homes and 3 million sq.ft. of wetland and protected forests. The 2.2 million square-foot residential site is known as La Cité de Mirabel. It is being developed by Ray Junior Courtemanche, of Investissements Ray Junior inc. and Daniel Proulx, of Investissements Au Pied Carré Inc.
All three of the projects take place on a 14-million sq.ft. property owned by MSG Lac Mirabel Quebec SEC (Morgan Stanley Group and Sheldon Gordon Group).
(function(i,s,o,g,r,a,m){i['GoogleAnalyticsObject']=r;i[r]=i[r]||function(){
(i[r].q=i[r].q||[]).push(arguments)},i[r].l=1*new Date();a=s.createElement(o),
m=s.getElementsByTagName(o)[0];a.async=1;a.src=g;m.parentNode.insertBefore(a,m)
})(window,document,'script','//www.google-analytics.com/analytics.js','ga');
ga('create', 'UA-45892555-1', 'auto');
ga('send', 'pageview');