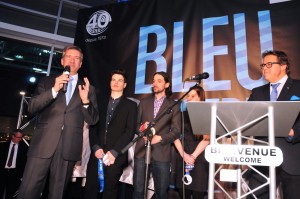 By Robert Frank
www.thesuburban.com
Canada's largest BMW dealership pulled out all the stops last week to showcase the Bavarian automakers' latest technology.
BMW Laval took the wraps off its new carbon-fiber i3 electric car and the its slick i8 hybrid sports car during its 40th anniversary festivities, April 1.
"The celebration attracted some 2,000 people," smiled owner Massimo d'Argenio. "They were delighted by Sugar Sammy, who put on a private performance for them, as well as three Canadian Olympic medalists: Charles Hamelin and Mikaël Kingsbury, who had just returned from the Winter Olympics in Sochi, Russia; and Marianne St. Gelais, who earned her medal during the 2010 Vancouver Winter Olympics."
Though battery powered, the nimble carbon-fibre framed i3 that BMW Laval unveiled is capable of putting its gas-powered competitors to shame when leaving a stoplight. It's capable of accelerating from a standing start to 100 km/h in just 7.2 seconds.
"The i3 is available right now, but supply is very limited," d'Argenio told The Suburban in an interview.
"There has been tremendous interest and we're selling a lot of them. So many people want to switch to the new, electric car technology that we have pretty much already presold our entire allocation of i3 cars for the year."
He added that the i8 sports car is already sold out for the year, despite its price tag of upward of $140,000.
D'Argenio said that his grandfather started the dealership on St. Martin boulevard in 1973, where it remained until its success prompted its move to its huge, 150,000 square foot premises on Chomedey boulevard in 2000.
He said that the firm has thrived thanks to its propensity to regard customers like family.
"People enjoy the personalized service," he said. "We're just easy to talk to. Our motto is that everyone is part of the family, and we treat them exceptionally well."
BMW Canada ceo Eduardo Villaverde (left) unveils the Bavarian automaker's groundbreaking electric cars during 40th anniversary festivities at its largest dealership in the country, BMW Laval. Canadian Olympic medalists (left to right) Mikaël Kigsbury, Charles Hamelin and Marianne St. Gelais joined him to mark the occasion, along with BMW Laval owner Massimo d'Argenio.