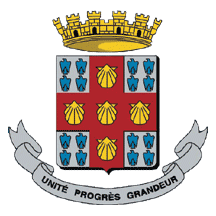 By Robert Frank
www.thesuburban.com
When the Pope Francis decreed François de Montmorency-Laval a saint during a ceremony at the Vatican City in Rome, April 3, he ascribed a special degree of holiness to the man for whom Quebec's eponymous third-largest city was named.
Within six years of his arrival in colonial New France in 1659, as its first Roman Catholic bishop, he was given ownership of Île Jésus, which was then being turned into farmland.
When municipal affairs minister Jérôme Choquette, a devout Catholic, succeeded in passing a law to force the island's 14 municipalities to merge into a single city, it seemed natural to name it after the man who is today known as the father of the Canadian church.
Even the city's official coat of arms is derived almost exactly from a design found on St. François de Laval's medieval shield.
He is also remembered for vigorously opposing the exploitation of local aboriginals, whom European settlers had hitherto taken advantage of, by plying them with alcohol. Twenty years after he first set foot in New France, he succeeded in getting the King Louis XIV, the Sun King, to ban the practice.
"It is with great joy and thanksgiving that the bishops of Canada welcome the proclamation by Pope Francis," the Canadian Conference of Catholic Bishops said in a statement.
St. François de Laval died in Quebec City in 1708. When he arrived there, a half-century earlier, it was a small village with a population of just 500 souls.
The decision to declare him a saint had been decades in the making. Pope Francis' predecessor, Pope John Paul II, decreed his beatification, a step in the Roman Catholic Church's sainthood process, in 1980.
(function(i,s,o,g,r,a,m){i['GoogleAnalyticsObject']=r;i[r]=i[r]||function(){
(i[r].q=i[r].q||[]).push(arguments)},i[r].l=1*new Date();a=s.createElement(o),
m=s.getElementsByTagName(o)[0];a.async=1;a.src=g;m.parentNode.insertBefore(a,m)
})(window,document,'script','//www.google-analytics.com/analytics.js','ga');
ga('create', 'UA-45892555-1', 'robertfrankmedia.blogspot.com');
ga('send', 'pageview');
City of Laval coat of arms
St. François de Montmorency-Laval coat of arms