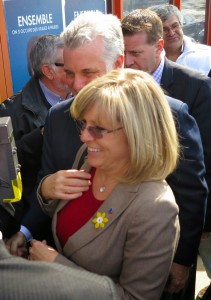 By Rhonda Massad
www.thesuburban.com
Liberal Mille Îles MNA Francine Charbonneau achieved victory in Monday's election, winning a second consecutive term.
Charbonneau polled 54.67 per cent more than her closest opponent Parti québécois candidate Djemila Benhabib who, when The Suburban went to press, had garnered barely over a quarter of the ballot, with 25.21 per cent of the votes thus far counted.
Trailing a distant third was Sylvain Loranger at 14.89 per cent of the vote.
Québec solidaire party candidate Anik Paradis and the Green Party's Bianca Jitaru received 3.9 per cent and 0.85 per cent of the vote respectively.
Charbonneau was first elected to represent the riding of Mille Îles in the National Assembly of Quebec during the 2008 provincial election.
Prior to her election, Charbonneau chaired the Laval's French school board, Commission scolaire de Laval, where she was first elected as a commissioner for Sainte Rose ward in 1998.
She also served on the boards of various Laval associations including the regional development commission, Histoire Laval, regional television and the Club des Petits déjeuners de Laval.
(function(i,s,o,g,r,a,m){i['GoogleAnalyticsObject']=r;i[r]=i[r]||function(){
(i[r].q=i[r].q||[]).push(arguments)},i[r].l=1*new Date();a=s.createElement(o),
m=s.getElementsByTagName(o)[0];a.async=1;a.src=g;m.parentNode.insertBefore(a,m)
})(window,document,'script','//www.google-analytics.com/analytics.js','ga');
ga('create', 'UA-45892555-1', 'robertfrankmedia.blogspot.com');
ga('send', 'pageview');
Francine Charbonneau
(Photo © Robert Frank)