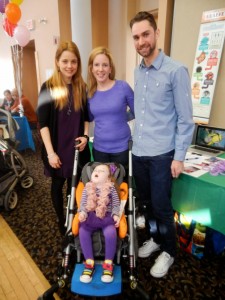 By Rhonda Massad
www.thesuburban.com
Sunday's birthday celebrations had a special meaning for young Beaconsfield resident Lauren Longheed. The three-year-old has a rare, life-threatening genetic illness known as Krabbe's disease.
Most children who have the debilitating disease don't make it past 13 months, on average.
Stephen Longheed, Lauren's father, said that once she was diagnosed, "our biggest challenge was to go home and create a life for her within the limitations."
According to the Mayo Clinic, the ailment attacks the central nervous system, causing severe degeneration of motor skills. The disease affects muscle tone and movement, and may cause vision and hearing loss, among other devastating effects. Most Krabbe victims are babies younger than six months, although sometimes it strikes older children and adults.
Her parents found support at the Mackay Association for the Blind, where Lauren partakes in music and pool therapy.
Lauren's parents said that the centre's holistic view in making her life comfortable and exciting has been invaluable.
"We know that the therapies work well for her, because the disease makes her very stiff, and after swim therapy she is much more comfortable for days," said her mother Amanda Longheed.
Another challenge that the young family faced is that Lauren needs constant care. Amanda could not return to work. The CLSC and Stephen's medical insurance cover 20 hours per week of specialized care, but the family was assessed as needing 80 hours of weekly care. Lauren's pediatric neurologist, Dr. Geneviève Bernard, is hopeful that in the next few years they will witness the development of a workable stem cell treatment for Krabbe's disease.
Lauren was brought to the Montreal Children's hospital when she did not meet a milestone in her growth. Dr. Bernard told The Suburban that had Lauren been screened at birth, shewould have had more options. Consequently, the Longheeds hope that the medical system will consider screening for Krabbe disease at birth, to give its young victims and their families more hope.
To celebrate Lauren beating the odds so far, her parents Amanda and Stephen Longheed joined with Rouge Event Design to hold a fundraiser birthday party for Lauren at the Dollard des Ormeaux Civic Centre, Jan. 26.
The festivities included family activities, bouncy castles, face-painting, a princess tea party and a reptile show.
Proceeds went to the MAB Mackay Foundation and Lauren's family.
You can follow Lauren on her website at: www.lifewithlol.com
Pædiatric neurologist Dr. Geneviève Bernard (left) hopes a stem cell treatment might be on the horizon to help Lauren Longheed, seen here with her parents Amanda and Stephen Longheed.
(function(i,s,o,g,r,a,m){i['GoogleAnalyticsObject']=r;i[r]=i[r]||function(){
(i[r].q=i[r].q||[]).push(arguments)},i[r].l=1*new Date();a=s.createElement(o),
m=s.getElementsByTagName(o)[0];a.async=1;a.src=g;m.parentNode.insertBefore(a,m)
})(window,document,'script','//www.google-analytics.com/analytics.js','ga');
ga('create', 'UA-45892555-1', 'robertfrankmedia.blogspot.com');
ga('send', 'pageview');