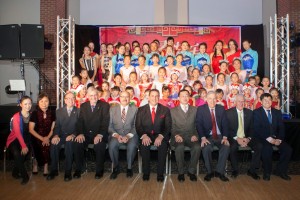 By Rhonda Massad
www.thesuburban.com
This year's Chinese Spring Festival Gala attracted an admirable list of VIP attendees. With more than 300 in attendance and over 135 artists performing, the cold weather did not hinder the celebrations.
Organizers Changhui Peng, Ching Li, Xuejun Zou of the Chinese Community Centre were thrilled to welcome dignitaries including Zhanpeng Qin and Qin Yang from Montreal's Chinese consulate. They were joined by Lac St. Louis MP Francis Scarpaleggia, Pierrefonds-Dollard MP Lysane Blanchette-Lamothe along with mayors from several West Island cities. Also in attendance were Christian Ibrahim president of the Egyptian Community as well as Peter V. Sanchez, president of the Filipino Community.
The evening opened with a traditional drum dance put on by the Montreal Centre of the Chinese Culture and Arts followed by an impressive Story of Winter interpretation by the Montreal Confucius School.
There was an impressive multicultural flair to the evening, with entertainment drawn from all parts of the globe. After the Chinese Centre's seniors group choir performed Love China, My Motherland, and an Egyptian belly dance was complimented by a Ukrainian folk dance.
All in all, the gala exposed a broad range West Islanders and others to a great expression of Chinese Tradition and blended with other cultures.
To all The Suburban's Chinese readers Happy New Year: Xin Nian Kuai Le! 新年快樂 !
A host of West Island dignitaries joined the Chinese Community Centre at a Jan. 25 gala in the the Lunar New Year, which starts on Friday, Jan 31. (Left to right) West Island Chinese Community Centre (WICCC) president Changui Peng, China's Consul-General Qing Yang, Beaconsfield Mayor Georges Bourelle, Pointe Claire Mayor Morris Trudeau, businessman Marcus Tabachnik, Pierrefonds-Roxboro Mayor Jim Beis, China's Deputy Consul-General Zhanpeng Qin,, Lac St. Louis MP Francis Scarpaleggia, Kirkland Mayor Michel Gibson and Montreal Confucius School principal Ching Li.
(function(i,s,o,g,r,a,m){i['GoogleAnalyticsObject']=r;i[r]=i[r]||function(){
(i[r].q=i[r].q||[]).push(arguments)},i[r].l=1*new Date();a=s.createElement(o),
m=s.getElementsByTagName(o)[0];a.async=1;a.src=g;m.parentNode.insertBefore(a,m)
})(window,document,'script','//www.google-analytics.com/analytics.js','ga');
ga('create', 'UA-45892555-1', 'robertfrankmedia.blogspot.com');
ga('send', 'pageview');