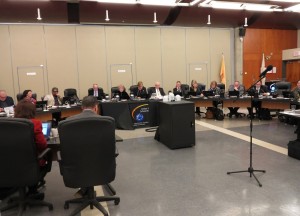 Had raised questions on air quality

By Rhonda Massad
with files from Robert Frank
www.thesuburban.com
Lester B. Pearson School Board (LBPSB) commissioners have voted to fire teacher Lucie Vacca during their council meeting, Jan. 27.
In an unusual move, the commissioners withdrew from the council chamber for nearly an hour to deliberate how to deal with Vacca.
In 2012, Vacca publicly called into question workplace air quality, in the wake of water infiltration of the walls of Gordon Robertson Beauty Academy, adjacent to Beaconsfield High School.
Quebec health authorities had issued a report recommending that the school board intervene immediately to "deal with mould remediation, to take samples and decontaminate."
However, Quebec's workplace safety commission subsequently concluded that the air there was safe enough for employees to work at the Beaconsfield school, and the school board slated corrective work to be conducted last year.
Santé Montréal also conducted a health survey of the school's employees.
In Dec. 2012, she stated that the school board's audit committee was developing a whistleblower policy.
LBPSB chair Suanne Stein Day declined to explain the school board's position on the firing.
"We don't discuss confidential information and issues about employees with the press," she said.
All but one LBPSB school commissioner—who abstained—voted Jan. 27 to fire teacher Lucie Vacca, who publicly complained about air quality at a Beaconsfield school in 2012.
(Photo © Robert Frank)
(function(i,s,o,g,r,a,m){i['GoogleAnalyticsObject']=r;i[r]=i[r]||function(){
(i[r].q=i[r].q||[]).push(arguments)},i[r].l=1*new Date();a=s.createElement(o),
m=s.getElementsByTagName(o)[0];a.async=1;a.src=g;m.parentNode.insertBefore(a,m)
})(window,document,'script','//www.google-analytics.com/analytics.js','ga');
ga('create', 'UA-45892555-1', 'robertfrankmedia.blogspot.com');
ga('send', 'pageview');