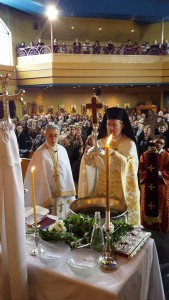 By Robert Frank
www.thesuburban.com
The early January deep freeze held numbers down to "only" just under a thousand parishioners for Jan. 6 festivities, officials at Holy Cross Church told The Suburban.
Parish priest the Very Rev. Nektarios Mostratos led the congregation in commemorating Jesus' baptism, a very important celebration for the Greek Orthodox community.
In keeping tradition, he dipped a cross in the church's baptismal font, together with a sprig of basil. The herb has been symbolic for Greek Orthodox faithful for millennia. According to tradition, St. Helen and St. Constantine found the cross because of the smell of basil, and would otherwise not have known it was buried there.
Parishioners were given a blessing and provided with a small container of water to bring home to bless their family, pets, possessions and even their drinking water. Church officials said that the tradition dates from 1991, when the church was consecrated on Souvenir Boulevard.
During the ceremony, white doves are released within the church to symbolize the Holy Spirit.
Holy Cross Greek Orthodox Church priests Rev. Vasilios Tsaprailis and the Very Rev. Nektarios Mostratos bless baptismal font with basil, during Jan. 6 ceremony.
(function(i,s,o,g,r,a,m){i['GoogleAnalyticsObject']=r;i[r]=i[r]||function(){
(i[r].q=i[r].q||[]).push(arguments)},i[r].l=1*new Date();a=s.createElement(o),
m=s.getElementsByTagName(o)[0];a.async=1;a.src=g;m.parentNode.insertBefore(a,m)
})(window,document,'script','//www.google-analytics.com/analytics.js','ga');
ga('create', 'UA-45892555-1', 'robertfrankmedia.blogspot.com');
ga('send', 'pageview');